Update Galaxy Note GT-N7000 to Jelly Bean 4.1.1 using ParanoidAndroid
The Samsung Galaxy Note GT-N7000 can be updated to Google's Android 4.1.1 Jelly Bean without the smartphone's owner sweating too much. How? See below.
Most of today's smartphones are yet to go from their Android 4.0 Ice Cream Sandwich to the 4.1 Jelly Bean version. To help pople who want the upgrade faster, a developwer over at XDA Developers forum created a custom ROM. Which goes by the name of ParanoidAndroid custom ROM. From past experience with this type of ROM, we only have positive comments. Despite problems like bugs and others, since this is not an official tool. But you can install it in full confidence.
Requirements
In order to be able to get the most out of what this custom ROM has to contribute, you must use the ParanoidAndroid custom ROM on the Samsung Galaxy Note GT-N7000 alone. Don't forget that. And don't ignore our advice by installing it on a completely different smartphone. Always read the steps we are going to post here with extreme concentration; and follow them accordingly. We will not be blamed if you are not careful with them.
Some of the requirements you need to fulfill before committing yourself to getting this particular ROM are easy to mind. And they look something like this: backup what you consider very important, grab ClockworkMod Recovery if your phone does not already have it, charge the device up until it shows over 75%, see that your phone runs on an AOSP-based custom ROM (the CyanogenMod, for example), and download GApps pack (a file called , 83.1 MB) and ParanoidAndroid Jelly Bean custom ROM (a file called ) to a laptop/PC.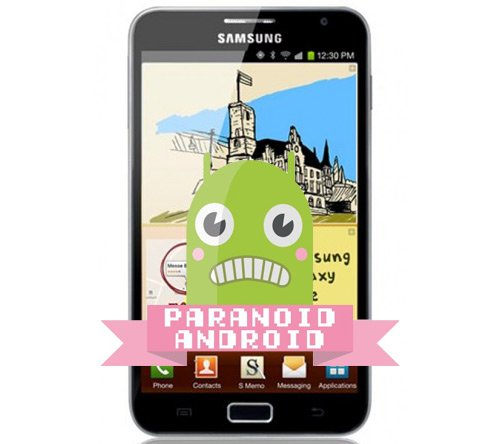 Important instructions
So, now that you know what you have to do before the installation of the ParanoidAndroid custom ROM, let us see the steps needed to start and successfully finish the procedure that will update your GT-N7000 to the Android 4.1.1 Jelly Bean OS.
The copying of the the Google Apps pack and the ParanoidAndroid Jelly Bean custom ROM to the internal SD memory card of the smartphone is step 1.
What follows is step 2, where you need to turn the phone off. Next you should boot into the mode called ClockworkMod Recovery by pressing and holding the keys for Home, Volume Up and Power down.
[sc name="banner-jos"]Step 3 is to create a NANDroid data backup of the phone's current ROM; if you have no inkling how to do that, follow our lead: go to Backup & Restore then opt for Backup again.
When you're finished with that, step 4 requires you to choose Factory reset/Wipe data; afterwards you need to do a confirmation of this.
Once the process is over comes step 5: choose Wipe cache partition; this also needs a confirmation. When the phone is offered that, you have to go to the menu; there you need to opt for something called Advanced. Next up is the selection of Wipe Dalvik cache; confirm this.
Step 6: choose the installation of the ZIP file from the SD card. Once this is selected, go to the ParanoidAndroid Jelly Bean custom ROM ZIP archive.
For step 7 you have to select that file and confirm this step. This will install the custom ROM.
In step 8 you need to install the Google Apps pack by following what we said in step 6.
The final step, 9, tells us to opt for Go back and then choose to restart the system. And you're done with the installation of the ParanoidAndroid custom ROM on the Samsung Galaxy Note GT-N7000.