Update Galaxy S3 SCH-I535 to CM 10.1 Final-Build Jelly Bean 4.2.2 custom ROM
Are you, as an owner of Verizon Galaxy S3 SCH-I535, having trouble with some of the features of your handset? Well then, it's high time you tried out something great called CM 10.1 Final-Build, a tool that has the main mission of showing you the wonders of Android 4.2.2 Jelly Bean.
Apart from the newest updates that come with the aforementioned operating system, you shall also witness the fact that the CyanogenMod 10.1 Final-Build delivers improved stability for your smartphone. From what we saw with our own eyes during testing, the tool did not come with unwanted bugs. And it decidedly improved the performance of our phone.
Requirements
The only important reminder for today: be careful with this tutorial. If you don't do what we tell you to in it, your S3 I535 can very well get bricked.
After leaving that behind, let us now dedicate ourselves to mentioning the right pre-requisites to use in order to go through a smooth installation: charge the handset's battery, enable USB Debugging, create backups using this guide, flash USB drivers for this phone on your laptop and follow the steps below.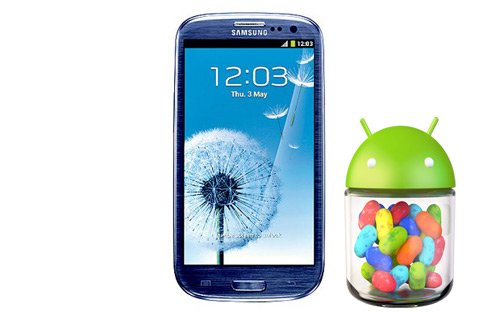 How to flash CyanogenMod 10.1 on Galaxy S3 I535
The most important thing to perform the first time is to download Google Apps package from here (file name gapps-jb-20130301-signed.zip) and the for your handset (cm-10.1.0-d2vzw.zip) on the notebook at hand.
Then do this: plug the smartphone to the notebook and transfer the two packages from the latter to the former's SD card root. This copy + paste action is not going to take too long. Unplug the Galaxy S3 I535 from the PC next.
A mode known as Recovery will need to be reached now by your handset; do that by pressing + simultaneously holding Volume Up, Home and Power.
You will need to stop doing that as soon as the display begins to flash. Make a NANDroid backup after being in the Recovery Mode; the action is not at all hard to perform: just opt for Backup & Restore and, when another screen appears, choose the option saying Backup.
Head over to the phone's Recovery Menu when you are done with the above and opt for Factory reset/Wipe data.
After you choose "Yes", you need to have some patience and then return to the Recovery Menu one more time; there, you will have to do the following: choose Wipe cache partition.
Then, while still in that menu, opt for Wipe dalvik cache. After these very important wiping actions are finished, you should also choose these two: Install zip from memory card and Choose zip from memory card.
[sc name="banner-jos"]After you find the CM 10.1 archive, you have to opt for it via Power and then choose "Yes"; the latter will confirm the flashing and you can afterwards wait for the file to land on your Verizon Galaxy S3 SCH-I535.
Once you have had patience for a couple of minutes, you need to install the Google Apps, as well; this is done by repeating everything you did for the flashing of the other file before it.
The two packages are now installed on the smartphone at last. Return to the Recovery Menu after that; once in that spot, you have to opt for the phone's restarting option. The Verizon Galaxy S3 SCH-I535 will boot into the Android 4.2.2 Jelly Bean CyanogenMod 10.1 Final-Build custom ROM.