How to Update Galaxy Tab S 10.5 SM-T800 to KitKat 4.4.2 XXU1ANE9
Galaxy Tab S 10.5 (WiFi) SM-T800 is going to have Android 4.4.2 KitKat installed on it via this guide. If you want to do this, prepare your tablet and follow our steps!
You're fine if you use the Samsung SM-T800 to grab an updated KitKat version. Especially with the Android 4.4.2 XXU1ANE9 which is tailored to your tablet's needs. If you ever use this new firmware on another gadget, the latter's going to just end up bricked. To avoid this situation, only use the model we indicated.
The novelties
The update firmware your device will end up with is aimed at various countries. It came out this month with a deactivated KIES logo. If you aren't aware yet, a deactivated KIES logo doesn't enable you to upgrade the tablet with Samsung's KIES software. You may not be able to use this method, but you can choose OTA. The latter is an over-the-air method which requires a gadget with stock ROM.
To be able to customize your gadget, you will have to update it. That's one of the many advantages you'll get with this firmware. Another is the possibility to enjoy new features and apps. A third novelty is represented by battery tweaks. The processor will make sure your tablet's performing much better. The upgrade doesn't let you deal with security problems.
If the update is done on a rooted device, that device will be affected. How? Its system partition will be deleted and the root access will be revoked. These two will get damaged, but the rest of your tablet will not go through this. Important data, internal / external SD cards and so on will stay on your gadget.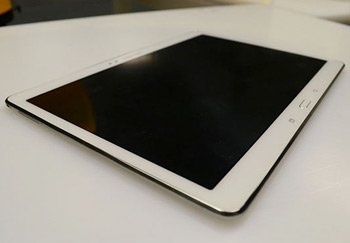 Prerequisites
Some requirements need to be performed next. They're telling you the following:
a laptop featuring Windows is required for the job;
a standard backup must be created;
a full NANDroid backup has to be generated;
your handset's USB Debugging needs to be activated on the tablet;
prepare your laptop for the download of USB drivers that are available for your Galaxy Tab S 10.5 SM-T800;
look at the tablet's battery unit and, should it be empty, charge it;
this tablet's security software will have to be turned off;
make sure the laptop's software programs are also turned off.
Step by step instructions
If our pre-requisites have been followed, you should have a tablet that's ready for the upgrade.
Begin the procedure with this step: download, on your notebook, the Android 4.4.2 KitKat XXU1ANE9 official firmware for: , , , , , , , , , , and . Then download, on the same device, a package with another name: Odin v3.09. After that's done, unzip the packages and open only one file on the notebook: Odin 3.09.exe.
Your tablet must enter Download Now now. To restart the device in this mode, press and hold some keys at the same time first. They're Home, Power and Volume Down. A boot message will eventually come up; be sure to press only Volume Up when it does.
The Galaxy Tab S SM-T800 needs to be plugged to the laptop now. The connection has to be helped by the tablet's USB cable. Odin is the one which will start looking for the gadget in a matter of seconds.
If it finds it, a sign in blue will come up. That's when you should add the firmware file to AP / PDA for the upcoming step.
Make sure you move on with this action: uncheck Re-partition when it appears on the screen. Now check F. Reset Time and then Auto Reboot. By tapping "Start", the tablet will have the new firmware installed on it.
About 10-15 minutes is the waiting time till the update's done. As soon as the firmware's on your tablet, the latter will have a "Pass" message to reveal.
[sc name="banner-jos"]When the gadget begins to reboot, you should wait until it's done, then unplug the devices. This requires the removal of the previously used USB cable. We recommend doing this next: tap Settings on the gadget, then tap About Tablet. The new XXU1ANE9 official firmware has just found a home on your Galaxy Tab S 10.5 (WiFi) T800.
Start exploring what the upgrade means for your tablet. Should you decide that the updated device isn't what you expected, use the NANDroid backup file to restore the tablet's old ROM. This procedure will revoke the upgrade.
In case you questions or comments for us, leave them in our comment section below.