Update Galaxy Trend Plus S7580 to Android 4.2.2 XXUAML1 Firmware
Another country has received new firmware for Galaxy Trend Plus S7580: Czech Republic. If you live there and you use this handset, Android 4.2.2 is yours to flash on the phone. Here's how to make that happen!
If this is your first time upgrading your smartphone, you will first have to know the following: you must use the Galaxy Trend Plus GT-S7580 for this guide. Don't use our steps on a different variant; the latter will be bricked for sure!
XXUAML1 is the new firmware we are talking about. It first came out in December last year for Czech Republic (O2C). Here are the three methods that can be used for the update: this tutorial, OTA (with the Software Update button under Settings menu) or Samsung's KIES. For the latter and the OTA method, your handset should feature a stock ROM. Our guide doesn't necessarily need it, so you don't have to install a stock ROM to update your phone; if the latter does have a stock ROM, it's totally fine.
The novelties
Before we tell you how the update needs to be performed to be successful, you have to know that you will meet some issues if your handset's rooted: the new firmware will erase the system partition and root access will end up revoked. But this is all: the internal and external SD cards won't be affected, same with the important data.
The update is going to bring these goodies along: zero Bluetooth audio streaming bugs, the possibility to long-press the WiFi and Bluetooth icons in Quick Settings so that you can easily toggle the on/off state, a new set of sounds for wireless charging and low battery bug fixes, USB debug white-list, a new Gallery app with superior speed when loading and a whole new set of download notifications.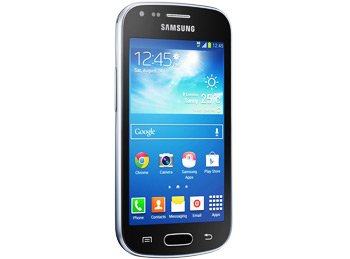 Requirements
If you want all of that, consider the following requirements for now:
make sure you use a laptop that has Windows pre-installed;
create as many backups as you want to (they must be a regular backup and a full NANDroid one);
when the device's battery unit is running low, you need to charge it;
locate and install USB drivers for your smartphone on the notebook;
the USB Debugging option on your Galaxy Trend Plus S7580 must be turned on;
the security programs which are running on the handset and the laptop need to be disabled while you're performing our guide.
Instructions
For the start of this tutorial we want you to do this: keep your laptop open, then look for Odin v3.09 on this page and (file name: S7580XXUAML1_S7580O2CAML1_O2C.zip). When you find both of them, make sure they're downloaded on your notebook. After they're both saved, you should unzip them; for this, use either WinZip or WinRar.
Be sure to enter the Galaxy Trend Plus S7580 in Download Mode by simultaneously pressing and holding Volume Down, Home and Power, wait for a warning display to appear and press Volume Up when it does. Then remember to do this: establish a connection between the handset and the laptop with the USB cable that belongs to the phone.
The display should now have "Added!!" and an ID:COM box in yellow. In case it doesn't, you should consider using another USB port or just making sure to flash the USB drivers again on the laptop.
If you don't need to do that, then move on to the following step: tap BL, select a file with BL in the name, click on AP, opt for a file with AP in the name, tap CP, opt for a file with CP in its name, tap CSC, choose a file which has CSC in the name, tap PIT and choose a file with an extension called .pit.
When you are done with these instructions, too, you should check some boxes. They are called like this: Re-partition, F. Reset Time and Auto Reboot. You will then have to tap "Start".
As soon as you click on that, the new official firmware will be flashed on your phone in the next couple of minutes.
[sc name="banner-jos"]The handset will, once the flashing ends, restart. When "Pass" pops up, you will have to unplug the handset from your laptop because the new firmware is now on it! More precisely, the XXUAML1 stock ROM is reachable by taking this route: click on Settings and then tap About Phone.
It's very possible the Jelly Bean 4.2.2 XXUAML1 is not what you thought it would be. Then what? The NANDroid backup file can restore the previous ROM on your Galaxy Trend Plus S7580 by revoking the upgrade procedure.
You can use the comment section below if you encounter problems during or after the update.