How to Flash Android 2.3.6 XXNB1 on Galaxy Ace Plus GT-S7500
XXNB1 official firmware became available for Galaxy Ace Plus GT-S7500 earlier this month. The benefits you will gain if you install it are all related to Android 2.3.6 Gingerbread, which you'll also get access to after today's update.
The XXNB1 can be flashed only on the Galaxy Ace Plus S7500 if you're living in Slovakia. When the firmware's KIES logo is turned on, which it is on this version, Samsung's KIES can be used for the upgrade. However, your handset's going to need stock ROM in that case.
The new OS is stoked with novelties. With the help of the new firmware, your handset will get enhanced stability for data connectivity in case you want to turn Airplane Mode off and Visual Voice Mail updates. The second batch if goodies includes superior Vcast apps, an updated Favorite Contacts widget and a better battery.
You will also get access to these: Commercial Mobile Alert Service and a much better VZ Navigator containing the freshest 3D map improvements available. If you are in a place with a poor 4G signal, you can still use data in great quality. The last batch of features delivers mobile hotspot bug fixes and stability when moving between home screen panels. You won't have to deal with bugs while using your handset.
When you update a rooted Galaxy Ace Plus GT-S7500, you should expect some negative aspects. The system partition and root access will both be affected; you won't have root access anymore and the system partition will be deleted. You won't lose your phone's important content or internal/external SD cards.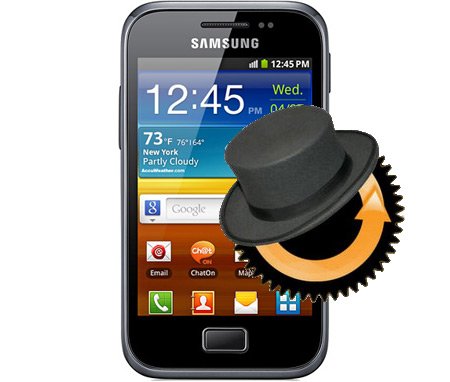 Prerequisites
If you're done with the above, move on to these pre-requisites:
the laptop needs USB drivers that are compatible with the Samsung GT-S7500, so download them from here;
disable all the security programs pre-installed on the handset and your laptop;
a normal backup is required, as is a full NANDroid one;
tick USB Debugging on the smartphone;
have a look at the handset's battery and charge it if it needs that;
your notebook must come with a pre-installed Windows.
Step by step instructions
Download these on the laptop after having completed the requirements above: Odin v3.09 from this page and the Android 2.3.6 Gingerbread XXNB1 (). You will then have to unzip, with WinRar or a different tool, the firmware file first, then the Odin zip file with the same extracting tool.
Now do this: launch the Odin v3.09 and restart the handset in Download Mode. The rebooting needs these instructions: simultaneously press and hold Home, Power and Volume Down. A boot screen will shortly come up; press Volume Up when it does.
After that, plug your device to your notebook. You should, as a result of this, see a blue sign in Odin. This means that a connection has been established between your two devices.
Once you see that sign, you should do as follows: add the firmware file to AP / PDA. Some of the boxes you'll soon see on the display will have to be checked. There are two of them: F. Reset Time and Auto Reboot. In case Re-partition is activated by default, make sure you uncheck it as soon as possible.
Now tap "Start" to activate the installation of the new firmware. After you help with the beginning of the flashing process as indicated, have a bit of patience.
Very soon, the Galaxy Ace Plus GT-S7500 is going to display a "Pass" message on the screen. Once this message pops up, wait until the phone restarts on its own. after the rebooting happens, you can unplug the device from the laptop.
[sc name="banner-jos"]Then do this: open Settings on the handset, tap About Phone and the XXNB1 firmware will be able to launch itself for your enjoyment.
If you want to test the new firmware and the pros of the Android 2.3.6 Gingerbread for a bit, do so. There is a possibility that you want to restore the old ROM if the new one doesn't satisfy you as much as you thought it would.
If that's the case, return to the NANDroid backup file. It is the tool which will restore the previous ROM by revoking the upgrade operation.
You will see, under this post, a comment section. Use it to leave questions and impressions about today's guide!