How to Flash Android 4.1.2 KEANA2 on Samsung Galaxy Win SCH-I869
Galaxy Win SCH-I869 has KEANA2 to look forward to. This firmware is the latest to arrive for your phone. Read on as we teach you how to update your device with it and land Android 4.1.2 at the same time!
Even though KEANA2 came out last month for China (Anycall), its goodies are still valid. Each one of them does something else for your phone, like improve performance, help the battery last more and so on. The novelties are made of automatic adjustment for the size of widgets, Google Now and free style widget.
Other features are all share, mini apps and triple buffering. A new keyboard will also be available, as will a fixed frame of 60 fps. All of that is completed by touch anticipation, pop up play and extended Vsync timing. Group cast together with sync and connect email updates are also delivered by the update.
If you truly want the upgrade for your phone, you must only use the Galaxy Win SCH-I869. If you don't, you will end up with a bricked handset should it be the wrong model.
The novelties
The new firmware doesn't allow you to use Samsung's KIES as an alternative to our guide. But you have the possibility of using OTA instead of this tutorial; this method does request that you have stock ROM running on your smartphone. We don't need that for our guide.
When you want the update by using our tutorial, you should know what's in store for you if your device is rooted. The first disadvantage you'll notice: lack of root access. The other con: you won't get access to the system partition anymore since it'll be erased from your phone.
With root access and system partition gone, are there other cons to expect from an upgrade? No. Your device's internal / external SD cards and important data won't go missing.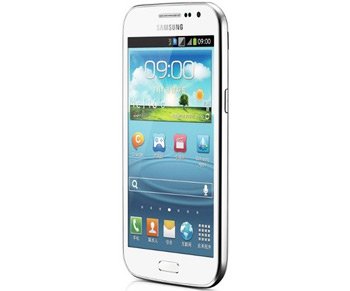 Prerequisites
You will find a batch of prerequisites below. They must be followed accordingly. Here's what you need to do:
use a computer with Windows on it;
fully charge your smartphone;
turn on USB Debugging on your handset;
turn off the security software sported by your notebook;
disable the security software featured on the smartphone;
download USB drivers fit for the Galaxy Win SCH-I869 on the notebook;
make a full NANDroid backup, using this guide;
create a standard backup via these instructions.
Step by step instructions
You can now find out how to apply the update.
First off, download, on your laptop, these: the (Anycall) and then Odin v3.09, available here. When you're done with the downloads, make sure each of the packages has its content extracted on the notebook.
Once the unzipping's all done, time to open Odin v3.09.exe on the laptop and then enter the Galaxy Win SCH-I869 in Download Mode. You should do this by simultaneously pressing and holding Home, Power and Volume Down until you see a boot message appear; let go of the previous keys, then press Volume Up.
The smartphone will have to be connected to your notebook now. This is where you should use the phone's USB cord and wait till a sign in blue appears in the Odin.
This is how you'll know that the plugging between your handset and laptop was successful. After the sign disappears, you need to add the firmware file to the AP / PDA.
Now you should check two boxes. They're these: F. Reset Time and Auto Reboot. If you happen to see Re-partition ticked by default, make sure it's unchecked before you tap "Start".
Tapping the latter means that the installation of the new firmware can begin. Wait for this to end; it will happen after approximately 15 minutes. A message saying "Pass" in a green background will acknowledge the end of the installation.
Immediately after that, your Galaxy Win SCH-I860 should begin to restart automatically. When this is over, remember to unplug your phone from the notebook by doing this: take the USB cord out.
[sc name="banner-jos"]The KEANA2 can be explored only if it's launched on your handset. Open the new firmware by tapping Settings on the device first, then by tapping About Phone.
When you've played around with the new features of the Android 4.1.2, you will know if you like them. If you don't, use the NANDroid backup file to regain the former ROM. This will revoke the update procedure.
You can ask us questions below!