How to Install Android 4.2.2 DOUANB2 on Galaxy Trend Plus GT-S7580L
Your Galaxy Trend Plus GT-S7580L is going to benefit loads from Android 4.2.2 JB via the new DOUANB2 official firmware. How? Find the answer below.
The Android 4.2.2 is well-known for the many offerings it delivers. Your phone will gain access to all of them via today's update guide. These novelties are as such: customization options, a USB debug white-list together with a new set of download notifications. You should expect a new Gallery app and also the possibility of long-pressing the WiFi Bluetooth icons in Quick Settings in order to be able to toggle the on/off state. Besides these novelties, the upgrade delivers low battery bug fixes, a new set of sounds for wireless charging and better Bluetooth audio streaming.
The novelties
To make sure your smartphone receives all of the goodies described above, use only the Samsung GT-S7580L. You risk ruining your device if it's not the one we recommend here.
If you live in New Zealand, the Jelly Bean 4.2.2 will land on your phone only if you use DOUANB2. The latter came out this month. But it doesn't have an activated KIES logo. As a result of this con, you won't be able to upgrade the phone through KIES software. But you can still use OTA (over-the-air) or our own guide. The OTA needs, however, a phone with stock ROM.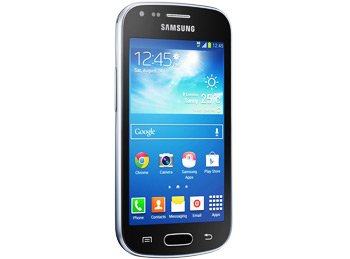 In case your phone comes with root access on-board, the update shall wipe root access out. Not only that, but your device's system partition will be erased from it. The internal / external SD cards will not suffer, and neither will the important content.
Prerequisites
To experience a successful upgrade, there are some prerequisites you need to read about. Here they are:
a standard backup should be created in order to save the phone's important data;
when done, apply a full NANDroid backup, too, using this tutorial;
deactivate the security programs flashed on your laptop and then the ones on your notebook;
download, from this place, USB drivers on your computer;
charge the battery of your device;
enable, on the phone, USB Debugging;
the OS installed on your notebook must be Windows.
Step by step instructions
If the requirements are completed, start the update with this: download Odin v3.09 from this location and the on the laptop you're now using, then extract each of the two packages. Among the files you'll get is Odin v3.09.exe. This one must be launched on the laptop.
Now go ahead and enter the phone in Download Mode by first pressing and holding, together, these buttons: Home, Power and Volume Down simultaneously. Continue by waiting for a boot screen to appear, then make sure you do this: press Volume Up when you see that screen.
There must be a connection created between the handset and your notebook, so use the USB cord belonging to the Galaxy Trend Plus GT-S7580L for that.
You need to see a blue sign in Odin before you can move on. After the sign pops up on the screen, do this: add the firmware file to AP / PDA and check F. Reset Time and Auto Reboot. In case a box called Re-partition is checked beforehand, it must be unchecked.
After you're done with that, we need you to start the flashing of the new firmware. The installation will only begin if you tap "Start", so do that first, then wait for the process to finish.
When it does, "Pass" is going to come up on the display and the phone shall automatically reboot on its own in a matter of minutes. This will tell you that you can finally unplug the smartphone from the laptop.
[sc name="banner-jos"]After you've unplugged the handset from your other device, do as follows: tap Settings on your Galaxy Trend Plus GT-S7580L and then tap About Phone. This last action will open the DOUANB2 firmware for you so that you can quickly see what it's all about.
If the firmware lets you down as soon as you're done experimenting with it, your best option is this: retrieve the old ROM. To have the latter back on your phone, you must use the NANDroid backup file from before. Go to where you saved it, then launch it and the upgrade will be revoked.
Is there something you have trouble understanding? You can drop whatever question you may have in the comment box below.