How to Install Android 4.3 XXUGND5 on Galaxy S3 GT-I9300
If you're aiming for a Galaxy S3 GT-I9300 with lots of improvement, Android 4.3 Jelly Bean is the answer. Launched for Hungary earlier in May, this firmware will deliver an upgrade for your phone. You can get it via this tutorial!
For our Hungarian users of the Galaxy S3 I9300, a firmware by the name of Jelly Bean 4.2.2 XXUGND5 has just been unveiled. VDH is the carrier that works with this tool; make sure you use the phone model we have here. If your device is another model, you will brick it. Thanks to the KIES logo being turned on, your smartphone can be updated with Samsung's KIES if it runs stock ROM. If this is not available on your device, our guide works just as well.
When you decide to apply an update even if your phone is rooted, remember this: root access will be revoked. Another disadvantage: the system partition inside your smartphone will be erased. The internal and external SD cards will stay safe; as will the data saved on your phone.
From the updated OS you should expect brand new apps, tweaks for customization and longer battery life. Other than that, the new firmware brings new features and no bugs. As for bloatware, you don't have to worry; the upgrade doesn't have that.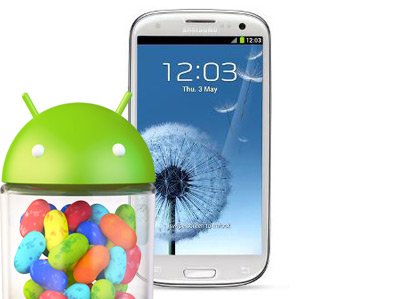 Prerequisites
Before the new firmware is yours, however, the smartphone has to go through several requirements. They will prepare the device for the procedure. That being said, here's what you should do:
the procedure needs you to make backups for the phone's data in case something doesn't go well;
you should also consider generating a full NANDroid backup;
it is recommended to charge the battery of your smartphone;
USB drivers fit for the Samsung GT-I9300 are needed on your laptop;
get these drivers from this address;
the notebook's OS needs to always be Windows;
the smartphone's security programs must be deactivated for now;
the security software flashed on your notebook are also required to be turned off;
deactivate, on the handset, its USB Debugging feature.
Step by step instructions
This is how to start the update: download a couple of packages on the laptop.
Among them are the and Odin v3.09 (available here). Then you will need to do as follows: extract each of them with 7Zip or WinRar, find Odin v3.09.exe among the unzipped files and just launch this one on the laptop.
For the next part, start your phone in Download Mode by making sure the following steps are used: press and hold Home, Power and Volume Down together and, when the display contains a boot message, press Volume Up.
When the phone restart in this mode, you need to just connect it to your laptop. This is where you need to use your handset's USB cord. If the Odin comes up in a short while with a blue sign, the phone and your laptop will have been plugged to one another.
So make sure you continue by performing the following step: add the firmware file to AP / PDA. Once this file is there, be sure to activate some boxes. They're F. Reset Time and Auto Reboot. Re-partition is checked already; you have to uncheck it.
"Start" is the option which, once tapped, will begin the flashing of that Android 4.3 XXUGND5 on your smartphone. Give the process approximately 13 minutes to finish. At the end of the flashing period, the phone will deliver this message in green: "Pass".
After the display comes up with this message, the Galaxy S3 GT-I9300 will be sure to go into a rebooting phase.
[sc name="banner-jos"]Disconnect the handset from the notebook at the end of this phase (by taking the USB cable out). Tap Settings after that, then be sure to also tap About Phone.
Should there be problems with the new firmware or you want the old ROM back, the NANDroid backup file is your salvation. By using it, the phone will be able to get its previous ROM back. There's a catch, though: this restoration revoked the device's upgrade procedure.
If you're completely OK with this, then go ahead and use this helpful file. If you encounter problems along the way and you want to ask us something, you are welcome to leave your questions below.