How to Install Gingerbread 2.3.6 XXNA2 on Galaxy Mini Plus GT-S5570I
This month saw many new update firmwares for Galaxy Mini Pop Plus GT-S5570I. The one we want to try today is XXNA2. It's one of the easiest tools to install on this phone and you'll see that for yourself if you follow our tutorial.
This official firmware has been out for the Czech Republic since March this year. Its developer created it so that users of the Samsung S5570I could easily enjoy Android 2.3.6 Gingerbread. There are a lot of things that recommend the update to this OS.
The new features your smartphone will quickly enjoy are mobile hotspot bug fixes and 3D map improvements, just to name a few. Other novelties: Visual Voice Mail updates and Commercial Mobile Alert Service. The usual VZ Navigator is back, this time in an improved presentation.
The novelties
You can also experiment with Vcast apps and stability for data connectivity in case you wish to disable a mode called Airplane Mode. The widget known as Favorite Contacts has been greatly improved. The possibility to move between home screen panels is still present, this time delivering more stability. When you want to use the phone in a place with poor 4G signals, you can do so without experiencing issues.
The KIES logo running on the phone is turned off. This signals the following point: Samsung's KIES is a no-no if you wish to opt for it as an upgrade aid. Which means that only OTA or this guide can work as an update helper. Also, never use another smartphone if you want to get the upgrade via the XXNA2.
Whenever new firmware is used on a phone with root access, the latter gets revoked. The same will happen to your smartphone. Likewise, the system partition on it will end up deleted. Both internal / external SD cards and important data will be preserved.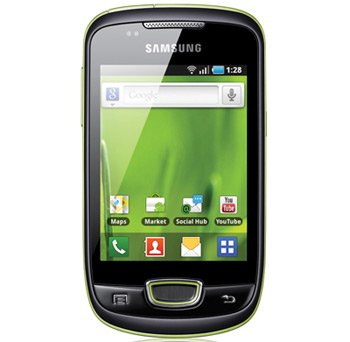 Prerequisites
Next stop: requirements. What needs to be done before the actual upgrade is described below:
make a full NANDroid backup, following these instructions;
certain USB drivers for this model will have to be downloaded on your laptop;
the security programs enabled on your phone and the laptop need to be turned off;
your notebook's operating system needs to be Windows;
enable, on the handset, USB Debugging;
make several backups, using these tips;
the battery on your smartphone must be 100% charged.
Step by step instructions
The latest Gingerbread OS should now be installed on the Galaxy Pop GT-S5570I. This needs to happen by following some steps.
Take a look at what you have to do for the first one: find the Android 2.3.6 XXNA2 for the Czech Republic, then Odin v3.09 over on this site. They are the packages that should be downloaded on the notebook. Bu using either WinRar, 7Zip or WinZip, you will be able to extract the two on the same notebook.
If you're done with both of these steps, we ask you to open, on the notebook, Odin v3.09.exe, then continue by booting the phone in Download Mode.
This mode will appear after pressing and holding Home, Power and Volume Down at the same time, releasing all three when a boot screen is displayed and then pressing Volume Up. Follow this up with this next step: plug the smartphone to your notebook.
The handset's USB cord should be used for the best results. Then, when the Odin pops up with a blue sign, move to the next set of tasks. Which are these: add the firmware file to AP / PDA and make sure to tick Auto Reboot and F. Reset Time.
After unchecking Re-partition, your task will sound like this: start the flashing of the firmware on the Galaxy Mini Plus. The installation will debut as soon as "Start" is tapped. You will afterwards have to wait some 15 minutes till the end of the flashing.
The latter's end will be displayed via a "Pass" message; this is not the only signal to let you know that the installation's been a success: the handset will also restart. Once it restarts, you can go to your 2 devices and have them unplugged from one another.

The Android 2.3.6 Gingerbread XXNA2 should be taken for a spin now. Open it by tapping, on the Galaxy Mini GT-S5570I, the option labelled Settings, then the one called About Phone.
To get rid of the new firmware and its goodies, you will have to go to where the NANDroid backup file is. Use it when you locate it and the old ROM will be restored; but the update will be cancelled.
As usual, our comment box is waiting for your questions and comments!