How to Install KitKat 4.4.2 XXUANE3 on Galaxy Tab Pro 12.2 SM-T905
Have you always wanted to update Galaxy Tab Pro 12.2 (LTE) SM-T905? You can do this if you grab a certain kind of firmware. It was launched this month and you can install it on your tablet today!
To even consider following the tutorial on this page, your gadget should sport this Android version: 4.4.2 KitKat. If you don't work with the Galaxy Tab Pro 12.2 SM-T905 for this update, you'll have a damaged device to deal with. But if you use this tablet model, you'll be fine.
The name of the firmware which upgrades your tablet is Android 4.4.2 KitKat XXUANE3. Those of you living in one of the Nordic countries will receive it. The firmware was unveiled this month and it is complete with all the usual goodies to end up with great performance.
The benefits of this update
If you're looking for new app, longer battery life and much more, you've selected the right tool. This official firmware delivers all of the above. And there's more to it: the update offers customization options and brand new features. If the tablet has stock ROM, the KIES method is available for updating purposes. If, however, no stock ROM is running on your tablet, you can upgrade it with this tutorial.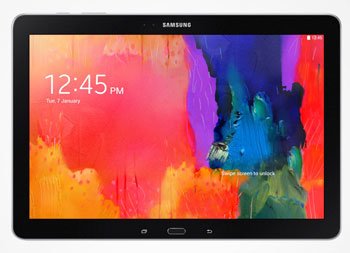 A Galaxy Tab Pro 12.2 (LTE) SM-T905 featuring root access will suffer the loss of its system partition. Root access isn't going to feature on it once the new firmware ends up there. Still, the tablet's internal / external SD cards, important data and everything in-between won't suffer from the procedure.
Prerequisites
The update needs the aid of some pre-requisites:
Step by step instructions
When you've done everything from above, you should take a look at our first step.
Its task includes the download of Odin v3.09 (available here) and the official on your laptop. WinRar, WinZip or 7Zip will help extract these packages on your notebook.
To move on, you'll have to find this file first: Odin v3.09.exe. Open it on the laptop and boot, with certain actions, the tablet in Download Mode.
The actions we mentioned are the following: press and hold Home, Power and Volume Down together until a boot message comes on the display, then press Volume Up.
There should be a connection generated between the tablet and your notebook next. To successfully establish one, you have to use the USB cord that is shipped with your tablet.
Have some patience till Odin sees your SM-T905 and displays a blue sign. Once this sign gets revealed, time for you to perform the upcoming step.
Have the firmware file added to AP / PDA. If you're done with this, you'd better wait for certain boxes to pop up. Among them you'll spot the three most important ones.
They are Re-partition, Auto Reboot and F. Reset Time. When they are shown on the screen, the first one must be unchecked. The second and third one must be ticked. Do all of this, then simply tap "Start".
Here is what should be done now: let the installation of the update firmware happen. Not more than 14 minutes should be needed till the process is finally over.
[sc name="banner-jos"]You will have to redo our tutorial steps should the new firmware not be flashed. But how will you know if the installation's done? Easy: the tablet will restart shortly after it displays a message reading "Pass".
This is what you have to do to officially end the guide: disconnect your devices. To quickly do it, take out the USB cable. Find Settings on the gadget, tap it, look for About Tablet and tap it, too. Give yourself some time to explore the novelties your device has just received.
If the exploration makes you realize how much you miss the old ROM, why not restore it? This is where the NANDroid backup file proves useful. This is the tool which brings back that ROM. But not without consequences: as soon as the previous ROM's returned, the tablet's update will be revoked.
Below our tutorial is a box for comments. Use it in case you encounter update problems!