Install Jelly Bean 4.2.2 ZNUANA1 on Galaxy Win Pro Duos SM-G3812
When you decide to get Android 4.2.2 JB for Galaxy Win Pro Duos SM-G3812, you should use ZNUANA1. Seeing as it was launched this month, the new firmware, featuring a deactivated KIES logo, can secure all the features and whatnot to make the smartphone perform at its best. Give this official firmware and the new OS a try by following our guide for today!
This is what the Android 4.2.2 Jelly Bean wants to attract owners of the Galaxy Win Pro Duos with: Bluetooth audio streaming made better and a new Gallery app. Other novelties: the option of long-pressing the WiFi Bluetooth icons in Quick Settings in order to be able to toggle the on/off state, a USB debug white-list and low battery bug fixes. The goodies aren't over yet. You will get customization tweaks, new set of sounds for wireless charging and then a new set of download notifications. The battery of your device will last more compared to what it can do now. Overall, the handset will enjoy a superior performance than if it didn't get an update.
The correct way to get the best results is to only use the Galaxy Win Pro Duos G3812 for this tutorial. You are going to end up with a bricked phone if it isn't the one we suggest here.
After revealing all the exciting new features, tweaks and so on, let's see other ways to grab the update if you don't like our guide. KIES is out of the questions because there's no activated KIES logo, like we said. But OTA will work just fine if your handset's got stock ROM on it.
Your Galaxy Win Pro Duos SM-G3812 might be rooted in advance. If so, get ready for some cons. In short: the system partition will end up erased and root access will no longer be present on your device. The update will not, however, erase the important content of your phone or affect its internal and external SD cards.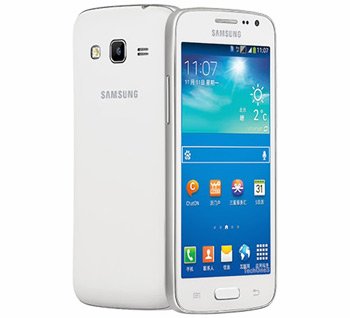 Prerequisites
Before the update, here's a bunch of preparations you need to consider:
Step by step instructions
Having just prepared your Samsung SM-G3812 for the update, start the latter by downloading, on your laptop, two packages. They are Odin v3.09, available here, and .
Once you download the right version for your region on the laptop, we suggest this: use an unzipping tool to extract the packages you saved after the downloaded ended earlier.
Launch the Odin v3.09 on the notebook for the next step, then just enter the handset in Download Mode. Home, Power and Volume Down need to be pressed and simultaneously held for this part; a boot screen should pop up after that. Press Volume Up when this screen shows itself.
Next thing to do: establish a connection between the smartphone and your laptop. Once Odin turns up with a blue sign, you will be able to move on to the next step.
This one tells you to do this: go to the firmware file, add it to AP / PDA, then check Auto Reboot and F. Reset Time; leave the box labelled Re-partition unchecked.
To enable the flashing of the ZNUANA1 on your phone, you need to tap this option: "Start". Then allow a couple of minutes to pass.
In no time at all, the screen will have a "Pass" message written in a green background; after that, the Galaxy Win Pro Duos SM-G3812 will restart.
[sc name="banner-jos"]The handset and your laptop must no longer be plugged to one another. Here's how to remove one from the other without damage: take out the USB cord that used to bind them.
If these two are disconnected at last, time to open the new firmware. Tap Settings and then About Phone.
When you no longer like the ZNUANA1, restore the phone's former one with the NANDroid backup file.
If there's something you want answered, use the comment field below.