Root Galaxy Note 8.0 LTE GT-N5120 on Android 4.1.2 Jelly Bean Firmware
To enjoy the best performance out of your Galaxy Note 8.0 (LTE) GT-N5120, we recommend rooting it. If it's the model updated to Android 4.1.2 Jelly Bean firmware, great. You will only have to follow some pre-requisites and then you're ready for the steps rooting your device.
Requirements
The requirements look something like this:
use the rooting firmware (called CF-Auto-Root) on the Galaxy Note 8.0 N5120 instead of another smartphone;
turn on USB Debugging from here: Settings, then tap on Developer Options and look for the USB Debugging one;
charge the battery on the handset;
create several backups via our instructions;
search for USB Drivers manufactured for your device and flash them on your notebook for later use.
Instructions
You have just been made aware of what you need to do before you learn how to root your Samsung GT-N5120. Take your time now and see what type of actions are requested of you for this procedure.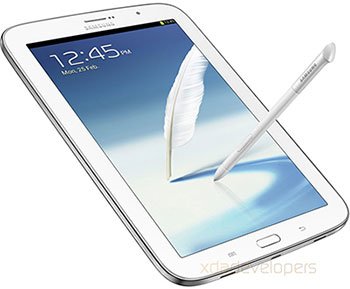 Task number one has you find and then download these zip files on the comp you usually use: the (the archive is labelled CF-Auto-Root-konalte-konaltexx-gtn5120.zip) and then Odin tool.
With the help of an unzipping tool, extract their content on the PC and then power the handset off.
That's because you should next do as follows: aid your smartphone enter Download Mode; the latter should go like this: simultaneously press and hold Volume Down and Home, wait for the Note 8.0 N5120 to switch on and then make sure to press Volume Up and you'll be in the Download Mode.
The guide goes on by telling you to go to your notebook and open the Odin file on it.
Now plug the smartphone to it (with the USB cable belonging to the handset). Once you come across either "Added!!" or a COM port number with yellow all over it, then the plugging was successful; if not, you have to do one of the following tasks: use a different USB port altogether or just be sure to flash the USB Drivers we mentioned in our requirements once again.
If the devices are connected to one another, you shouldn't go away from Odin; stay where you are and opt for the CF-Auto-Root .tar.md5 file with the help of PDA.
While you are remaining in Odin, do the following: look for Auto Reboot and F. Reset Time and select them both, but leave Repartition unchecked.
After you do that, you should begin the flashing of the CF-Auto-Root firmware by hitting START (for this, you should still be in Odin). The flashing is going to take only a bit of your time. When it's all done, you will see the Note 8.0 N5120 LTE restart.
[sc name="banner-jos"]The smartphone will then display the following message on its touchscreen: PASS. This way, you are told that you are allowed to unplug it from your laptop and be on your merry way.
NOTE: Aka: experience a rooted smartphone and all the wonders of this process. However, if you want to take a look at the device's warranty, you'll see that it's gone. To regain it, one has to unroot their smartphone.
After your handset is rooted, you will see that it's super easy to flash root-only applications and many other nifty instruments. So take full advantage of your newly rooted Galaxy Note 8.0 GT-N5120!