Update Galaxy Tab 10.1 GT-P7510 to Android 4.0.4 via XWMPE Official Firmware
If you and your Galaxy Tab 10.1 GT-P7510 don't see eye to eye anymore because of its lack of Android 4.0.4 Ice Cream Sandwich, then an update is absolutely necessary.
Our tutorial is helped by XWMPE official firmware which will upgrade your gadget to the Android version we mentioned.
Requirements
Let's just start with the requirements which are a must for every guide online. To enjoy a successful update, you need to use a factory unlocked Galaxy Tab 10.1 GT-P7510, your laptop needs to sport USB Drivers tailored for this model, you should absolutely charge the battery of the tablet for optimum results, you also have to turn on USB debugging on it and then simply make a backup using one of our guides. We also recommend you to download, on your laptop, and Odin tool v1.85.
The second you get the update on the tablet, the latter will not let you flash root apps and other stuff on it anymore. In order to be able to experience that again, you will have to root the device; use one of our guides for that.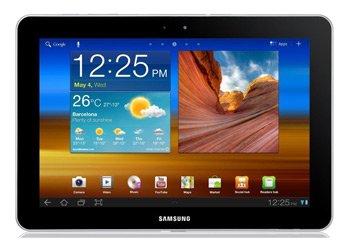 The steps to use in order to have the update on the Galaxy Tab 10.1 P7510 are shown below.
Important instructions
The first one will instruct you to extract the files that are inside the two file archives you had to download on your comp before. Once that operation is completed, you need to power the Galaxy Tab 10.1 P7510 off so that the Bootloader Mode is entered. To make sure the gadget is in that mode as easily as possible, you should do as follows: power the device on while pressing + holding Power and Volume Down; the logo of the company should come on-screen, which translates into a successful transition to the Bootloader Mode.
In step two you have to launch Odin tool on your laptop.
The third step is you plugging the gadget to the laptop and then waiting for an ID:COM area to be colored in yellow and for a number (the COM port) to appear.
When both happen, the devices are well connected and you can now do what the fourth step has in store for you. Choose the files that you will see below:
– the one with CODE in its name; click on PDA, that's how you will have access to it;
– the file with MODEM in its name; you will see it after you click on "tablet";
– click on CSC and you will see a file with CSC in its name;
– opt for the .pit file after you've clicked on PIT.
[sc name="banner-jos"]
Don't go into a panic if neither file appears on the tablet's display. If you fail to see all four of them, you need to go and check F. Reset Time and Auto Reboot. If, however, you spotted the .pit file from earlier, you should check Repartition.
Step number five will tell you to click on Start and the installation will begin. Then have patience for the Galaxy Tab 10.1 GT-P7510 to restart and show you its home screen.
Take the USB cord out of the tablet and the Android 4.0.4 will finally be on it.