Update Galaxy Note 2 T899 to Android 4.1.2 using UVBMB4 Official Firmware
Galaxy Note 2 T899 sure deserves to have Android 4.1.2 Jelly Bean on it. Samsung didn't announce when this smartphone would receive an update. That's why an official firmware was created.
This guide of ours brings forth a way to update the smartphone to this OS via UVBMB4, a tool which was tailored for the Note 2 T899 in the tiniest of details.
We can guarantee that after you get this upgrade on your device, the latter is going to gain access to many goodies. You just need to discover all the elements which will help you along the way.
Requirements
Such elements include certain requirements and steps. We will start with the former and continue our way up from there.
Here are the pre-requisites that are meant for the Note 2 SGH-T899 (T-Mobile version): charge the battery of the handset, create backups using this guide, turn on USB debugging on it (by going to Settings, choosing Developer options and selecting USB debugging) and (so that you can install the right drivers for this model on your laptop).
This version of UVBMB4 was released this February.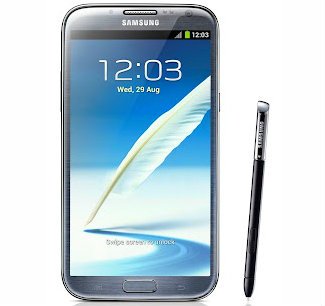 After the smartphone finally gets the update, it will deprive you of the option to root apps. If you look for a tutorial on how to root the Galaxy Note 2 T899, you will see that it allows you to root apps again.
Important instructions
This is where we introduce you to the steps which made this guide. First one can be summarized like this: download two files on your comp; they are firmware and Odin tool 3.07.
Now that the files are where they should be, you have to follow our next step, the second one; it tells you to extract the files that are in both of these files until you come across two files called .tar and Odin tool v3.07.exe. Since everything is now in order, your task is the following: turn the Galaxy Note 2 T899 off. Now do as follows: boot the smartphone into Download Mode. This is how: press while simultaneously hold Home, Volume Down and Power. If all goes well, the phone will power back on; when that happens, you have to press Volume Up and the handset will have reached the necessary mode.
The third step in our tutorial needs you to take the USB cord of the Galaxy Note 2 T899 and do the following: use it to connect its owner to your laptop. Now see whether or not an ID:COM box becomes yellow and if "Added" appears on the device's touchscreen; should there be issues, it's recommended to install, again, the drivers.
[sc name="banner-jos"]The fourth step advises you to click on PDA. Now find the .tar file and then opt for it with the PDA key. Check F. Reset Time and Auto Reboot.
For step five you have to see if the Repartition box is unchecked, then click on Start. This will download the Android 4.1.2 Jelly Bean firmware.
Wait for PASS to appear, then unplug the Galaxy Note 2 T899 from your computer. The handset is going to boot automatically afterwards.
Great, now the UVBMB4 official firmware is installed on your smartphone. See for yourselves by opening your handset's "About phone".