How to Root Galaxy Tab 8.9 GT-P7300
If you've already updated your Galaxy Tab 8.9 GT-P7300 and you just want to root it, you've landed on the right site. This is a guide which fully concentrates on providing root access for your tablet. Follow it to discover the tool we used!
The device you're using can have root access via several methods. One of the most popular ones goes by the name of SRSRoot. It's that popular because you don't have to worry about bugs or bloatware.
Moreover, this tool is great thanks to the improvements your gadget will receive. If you've tried to improve the tablet's battery life, this app brings ways to do exactly that. Not only will the device last more, it'll also experience root-only apps and custom ROMs. And that's only part of the goodies you'll have access to.
The benefits of this method
Other things to look forward to are these: customization options and new features. Even admin and superuser permission is delivered. Better speed awaits your tablet's dual-core 1 GHz Cortex-A9 CPU, as well. We had help from this Build ID: IMM76D.XXLQF.
Your choice of Build ID can be different; this software doesn't function with just one ID. Besides being compatible with many of those, this app is also available for different brands. And it is powered by an SRS Server. The Android variants is supports is varied. So even if there's a certain Android version running on your tablet, the SRSRoot software will be fully compatible with it; and it won't delete it.
Should there be need for an unrooting method, this application provides that, too.
But even with so many advantages, this procedure will leave its mark on your gadget if you want an upgrade for it. This implies the following damage: deleted root access and system partition. But if an update is performed, the gadget will still use its internal / external SD cards and data. However, a rooted Galaxy Tab 8.9 P7300 is also going to have its warranty revoked.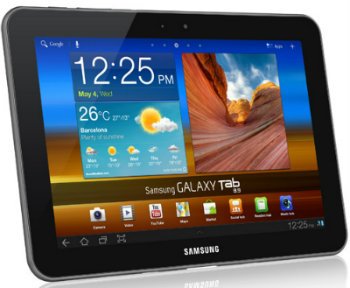 Prerequisites
If having a rooted device is really what you want, you should use this guide. First, follow the pre-requisites displayed here:
Step by step instructions
If you don't prepare your tablet the right way for this rooting, the procedure won't go well. When the requirements are completed, you have to follow some steps. All of them are delivered below.
The first step of our tutorial contains these instructions: find this site and go there. When you're on the page we just recommended, look for a download button. Upon discovering it, tap this button. The SRSRoot software will be downloaded on your laptop.
If the download has just ended, you have to install the new software. After your laptop has this app launched on it, do this: enable Menu on the tablet.
Now turn on Settings and tap Unknown Sources; the latter is under the Settings option you just activated.
USB Debugging, another option on your tablet, must be ticked next; do this only in case the option hasn't been turned on for the requirements.
Then provide a connection between the laptop and tablet; the latter's USB cable will do the trick, so use it here. Now you should wait.
Once the connection is achieved and the two devices are correctly plugged to one another, time for this step: tap Root Device (All Methods).
[sc name="banner-jos"]The installation of the new software will take about 14 minutes. If you have to wait more than that, you should redo the steps.
But as soon as the installation is over, your Samsung GT-P7300 will need to restart. If it does, you'll be allowed to enjoy the latest additions to your device.
If you wish to revoke the rooting, use the SRSRoot app. But if you have problems to report or just want to ask us something about the rooting, be sure to use the comment box below.