How to Root Galaxy Tab Pro 8.4 3G/LTE SM-T321
The procedure your Galaxy Tab Pro 8.4 3G/LTE SM-T321 is about to go through will be very eventful. What do we mean by this? Let yourselves be surprised by following today's guide!
If this is the first time you've performed a rooting, don't worry; the procedure isn't hard to follow. Everything of importance is detailed in this post. But what about the tool used for your tablet's rooting? The name of the app we're using is SRSRoot. You will see your device in a completely new light once this app's done its magic on it. The first info we'll give you on this tool is that it's powered by an SRS Server. The app is actually freeware and it can easily unroot a device. It offers the same novelties to every gadget it's installed on. But it needs a Build ID to function; if you want, you can use this one: KOT49H.T321XXU1ANBB. If you know a better one, you can use that; the SRSRoot works with every one of the available Build IDs.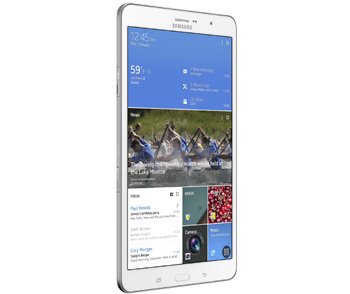 The benefits of this procedure
When you want to root your tablet without getting affected by viruses or bloatware, the SRSRoot is here for you. Its many properties make it an excellent pick. For instance, there's the great possibility to improve battery life. The gadget has a quad-core 2.3 GHz Krait 400 CPU; the latter's speeds will receive plenty of improvement. Released earlier this year, your device sports Android 4.4.2 KitKat. This operating system doesn't get damaged by the rooting. Available as Samsung SM-T325 with 3G/LTE and Samsung SM-T321 with 3G only, the gadget gets to play with new features.
A rooted device welcomes admin and superuser permission. Customization tweaks, custom ROMs and root-only apps are also part of the deal.
To get the new stuff, your tablet's warranty will be sacrificed. To retrieve it, a dedicated tutorial is all you need to use. To have root access on a tablet that's about to get upgraded means trouble. The upgrade will not only revoke that, but also delete the system partition. An upgrade won't do away with the tablet's data or internal external SD cards.
Prerequisites
Your job now is to look at the requirements below and perform them:
USB drivers compatible with the tablet are at this address, so open it and download them on your laptop;
after the drivers are installed there, you should make sure the tablet's battery isn't running low;
one or more backups will have to be created;
having a full NANDroid backup also helps, so perform one;
Windows should be the only OS variant on your notebook;
deactivate those programs on your notebook which protect it from security problems;
the tablet's security programs have to go through the same thing;
locate, on Galaxy Tab Pro 8.4 3G/LTE SM-T321, USB Debugging and enable it.
Step by step instructions
Introducing the tablet to root access is something that's done via the steps below.
Commence the process with this action: download the SRSRoot on the notebook. A download button on this page will have to be tapped for the task.
When the device has the right file, the latter needs to be installed on it. Soon after the flashing is over, the app has to be open there next.
Locate the following option on your Galaxy Tab Pro 8.4 SM-T321: Unknown Sources. Finding it quickly is done via these actions: after you tap Menu, look for Settings and turn it on.
The Unknown Sources is now available; it'll pop up under Settings if you look there. Now that this option is enabled, time to have the following one activated: USB Debugging.
Do this if the latter hasn't been turned on when we exposed the requirements. If the USB Debugging was activated back then, perform the next step.
The task required for this tells you to take the USB cable of your tablet. Ensure a connection with it between these devices: the notebook and tablet. As soon as the products have hit it off, two more steps are necessary before you're done.
[sc name="banner-jos"]Here's one of them: start the gadget's rooting. The appropriate option that works here is this one: Root Device (All Methods). Tap it, then sit back for around 10-15 minutes. If the procedure isn't done, you might want to reconsider redoing the steps.
The last step goes as such: enter the Galaxy Tab Pro 8.4 SM-T321 in reboot mode with Reboot System Now. The gadget is now very close to letting you experience the root access. When the tablet restarts, time to enjoy those new and useful improvements.
After you're done doing that, you have the option to revoke the root access if you want to. As said above, the SRSRoot app is great as a way to unroot a gadget.
Leave your comments and questions in our comment field below!