The Best VoIP Apps for Android
If you think there is now way you can keep close to people you know via an Android smartphone, think again. You should never despair, because there are countless ways to avoid losing touch with people from either your family or your workplace if you go somewhere far away.
Are you need to work from home over your phone because your laptop is jammed. Technology has developed a lot over the past few years. Therefore, you can get access to all sorts of apps which make it very easy to get in touch with friends and such if you have an Android phone that's connected to the Internet.
Today we shall give you some great examples of the best VoIP applications you can download on your device. By the way: VoIP stands for Voice over Internet Protocol, which is one of the best technologies ever invented. So here we go with our propositions to you for today's post.
Rebtel
We will first introduce a VoIP Android app known as Rebtel. This one delivers certain things that other tools don't. For one, the quality of calls is superb and the prices are not high. Then, if you are using the Rebtel for the very first time, you are offered 5 minutes free of charge to see if you like it.
Finally: this app comes with a feature called Keep Talking. The latter lets the user talk even if the smartphone is no longer in a 3G (or Wi-Fi) area, because you can use the free minutes included in your subscription plan. You can get Rebtel .
Fring
Next VoIP Android application is Fring. This fellow is pretty much like a buddy messenger if you've ever used one of those. This tool is free to download and install on your smartphone and it offers free calls, video and text. The user interface is very user-friendly. Among its many offerings are Live Texting, 1-on-1 video chats via either Wi-Fi or 3G and so on. The application is available for .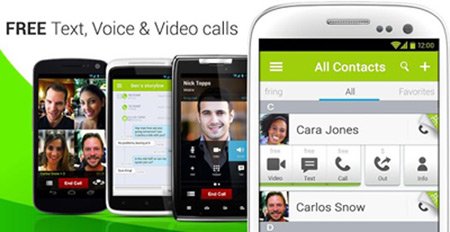 Skype
Third app we couldn't miss adding here is Skype. Which has been very popular in the last years. If you use it on your Android smartphone, you can enjoy things like voice calls over your device's 3G and Wi-Fi and Skype-to-Skype video calls that are free of charge.
Moreover, you can also send SMS to whomever you want. Low-cost, of course. The quality of video and voice calls varies depending on your coverage area, naturally. But on the whole, we didn't have problems. You can download Skype .
Truphone
Moving on, there's one VoIP app that we also couldn't forget to include here. And we're talking about Truphone, even if it is available only for people over in Great Britain and the United States. This app works great with names such as Twitter, MSN Messenger and so on. Instant messages don't cost a lot. You can even talk over a 3G connection for hours and the monthly charge won't skyrocket. The app is available for download, on .
Tango
Tango is another great VoIP app for your Android device. It's as great as Skype and it works with every kind of Android handset ever manufactured. But let's start with its most important con: the battery of your device won't last long if you use Tango, because this app is known for staying connected to the Internet even if you don't have any reason to use it.
[sc name="banner-jos"]
However, if you do download it, you will have the best time ever. VoIP calls, for one, will sound amazing. Calls over Wi-Fi, 3G and 4G are free. You can get Tango .
Google Voice
Google Voice is the app to choose should you have to make calls abroad. First, you need to create a Google Voice Account. This app comes with the following offers: making international calls at cheap rates, using only one number for different activities and sending text messages anywhere. The application can be downloaded .
Here is where we end our post on the best VoIP Android apps for your smartphone. Pick the one you love more than the others and download it from the Google Play Store.