How to Update Galaxy Grand 2 SM-G7105L to Android 4.3 UBUANA3
Galaxy Grand 2 SM-G7105L is the latest smartphone to enjoy Android 4.3 Jelly Bean. If you live in Colombia, this guide's for you!
Readers from Colombia using Comcel, we have a way to update your Galaxy Grand 2 to the Jelly Bean 4.3. It will happen through the help of UBUANA3 official firmware, recently launched for your country.
If you want to get the UBUANA3 on your device, you must first make sure it's the Samsung SM-G7105L instead of another handset. That's because, if you use a different model, you'll surely brick it. Then, make sure you follow some pre-requisites we prepared in the upcoming paragraphs.
Until then, here is a look at what an update is all about: tweaks to change your phone's appearance and so on, new features and options to improve battery life. The new OS doesn't come with bugs.
What you should know about an update is that it also brings cons if we're talking about a rooted handset. Which cons sound like this: root access is going to disappear and system partition will be erased. You won't lose the important data and the internal / external SD cards will also be saved.
Since the firmware's KIES logo isn't turned on, you won't get to use Samsung's KIES for the update. Instead, you can always use OTA (over-the-air) if you don't want to use our guide. However, your phone must run a stock ROM if you select the over-the-air solution.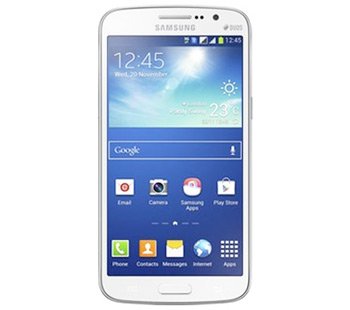 Prerequisites
You will now be able to get a look at the requirements we mentioned. They ask you to do as follows:
you should go ahead and make a couple of backups;
when you're done with that, create a full NANDroid backup, via this tutorial;
the battery of your handset needs a full charge in case battery levels are low;
get USB drivers compatible with the phone from here, then download them on your notebook;
use only a Windows-running laptop;
your Galaxy Grand 2 G7105L must have USB Debugging activated;
go to the notebook and deactivate its security solutions (do the same for the smartphone next).
Step by step instructions
The first step you will need to perform: download the Jelly Bean 4.3 UBUANA3 for Colombia Comcel on your notebook. After that, download Odin v3.09, too, from this place. Save both of these packages, then extract them with WinRar.
You can now open Odin v3.09.exe on the laptop and then boot the handset in Download Mode. The booting requires you to press and simultaneously hold Home, Power and Volume Down, see if a boot message shows up, then simply release the 3 buttons and press Volume Up.
Now go and secure a plugging between the Galaxy Grand 2 and your notebook. To create this connection, use the USB cord which arrives with your smartphone, then wait until a blue-colored sign pops up in Odin.
As soon as it does, go ahead and add the firmware file to AP /PDA. After you're done with that, check Auto Reboot and F. Reset Time boxes.
If you see an already checked Re-partition box, uncheck it and then click on "Start" to initiate the installation of the new firmware on your phone. The flashing is a process which shouldn't take more than 14 minutes. If it does, we recommend redoing the guide.
Should the installation be done, wait till "Pass" shows up on the display in a green box. When that pops up, the Galaxy Grand 2 SM-G7105L should begin to restart on its own.
Wait till it finishes, then disconnect the smartphone from your laptop. You are now able to see what the fuss is all about the new OS.

To gain access to the UBUANA3 official firmware, you must first open it on your handset. If this is the first time for you, be sure to do as follows: tap Settings on your smartphone, then tap About Phone. The firmware will be there, so click on it. Now feel free to play with it for a while to check whether or not you wish to use it from now on.
If you don't like it, the NANDroid backup file can be used to regain the former ROM. By restoring that one, though, this will happen: the upgrade procedure shall be revoked.
Feel free to drop a comment or ask us something about the update. For that, please use the comment box below!