How to Flash Android 4.4.2 ZCUANB3 on Galaxy Note Pro 12.2 SM-P900
When Galaxy Note Pro 12.2 SM-P900 doesn't perform as well as usual, an update can turn that around. Especially if it brings Android 4.4.2 along. There are come very important steps to apply if you want the upgrade. We are here to help with that, so don't miss out on our guide!
ZCUANB3 is the name of the official firmware which can update your Galaxy Note Pro 12.2 SM-P900. It was made available this month for China. Never use it on a tablet with another name, or else you'll brick it.
The novelties
The Android 4.4.2 KitKat is the OS that delivers customization tweaks and many new features. Apart from that, your gadget is going to make good use of new apps performance boosters. You won't have problems with the battery, because it will last more. The performance won't be affected by security issues.
The ZCUANB3 doesn't have an activated KIES logo. This practically offers you the following update methods instead: the current tutorial and over-the-air (or OTA in short). With the OTA way, you should check if your tablet's running stock ROM. In case not, you can use our guide: we don't ask for this sort of ROM.
An update will operate several changes on a rooted Samsung SM-P900. The first of them has to do with root access. The latter shall go away from your gadget. The second change deals with the tablet's system partition, which is going to be deleted. The upgrade will, however, not damage the internal and external SD cards or the device's crucial content.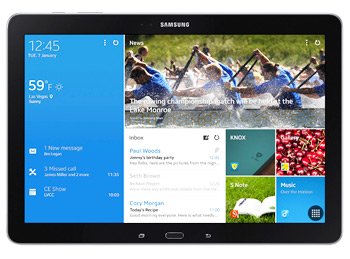 Prerequisites
Up next: requirements. Thus, make sure you:
turn off every single security program pre-installed on the Galaxy Note Pro 12.2 SM-P900 and the notebook you use;
find, here, USB drivers fit for your tablet;
download them on the laptop afterwards;
the laptop you own must have Windows;
create two sets of backups: one should be a regular one and the other must be a full NANDroid one;
your tablet's battery should be charged to the fullest;
USB Debugging must be activated on your tablet.
Step by step instructions
That was all for pre-requisites. Coming up next are the update steps.
The number one task to perform now: download several files on your notebook. They should be Odin v3.09 (available here) and the . They will have to be saved on the same notebook when the download's over.
You should do this next: launch Odin v3.09.exe on your notebook and find an unzipping tool, such as WinZip, and use it on the two packages.
Wait until they're extracted, then enter the tablet in Download Mode. To enter the device in the required mode, be sure to simultaneously press and hold Home, Power and Volume Down, then let go as soon as a boot screen appears, meaning that you have to press, instead, Volume Up.
Continue by operating a connection between the tablet and the notebook with the former's USB cable. After a couple of minutes are over, you should see, in Odin, a blue sign.
When you spot this sign, you have to do this: go to the firmware file. When you come across it, move it to AP / PDA and uncheck this box: Re-partition. F. Reset Time and Auto Reboot should be checked next.
The way to land this stock firmware on your Galaxy Note Pro 12.2 SM-P900 is this: tap "Start" and wait for around 15 minutes. If nothing happens, try repeating the tutorial.
But if a message comes up on the display, everything's alright and the new firmware is on your tablet now. This message should appear in a green background and it should say "Pass". After it pops up, the gadget will reboot.
[sc name="banner-jos"]This will tell you that you can unplug the devices from each other by taking the USB cable out. After doing that, go to your tablet and tap this: Settings. Stay there, then tap About Tablet as soon as you see this option. Once done, the ZCUANB3 will be yours to discover.
If the firmware doesn't feel right and you think the former ROM was better, we suggest the following course of action: go to where you saved the NANDroid backup file.
Make sure you use it to restore the old ROM on your tablet. Restoring it on the latter will mean that the update is no longer available.
For questions, use the box under this post.