How to Update Galaxy Grand Lite GT-I9060 to Android 4.2.2 XWUANB4
Galaxy Grand Lite GT-I9060 is in for an upgrade. It's all done with firmware that's compatible only with your phone model. To know how the update's performed, stay with us and we'll tell you very soon!
The update we want to help you perform on your smartphone needs this official firmware: XWUANB4. It was launched this month for Indonesia and it's best used with the Samsung GT-I9060. If the upgrade is done on a phone with a different name, it will be damaged.
When done on the right device, today's update will make sure Android 4.2.2 features on it. This operating system is popular for many novelties. Which are as follows: better Bluetooth audio streaming and the possibility to long-press the WiFi Bluetooth icons in Quick Settings in order to be able to toggle the on/off state. This is only part of what's in store for you. Also coming are a USB debug white-list and a new set of sounds for wireless charging. The upgrade is also delivering the following: a new set of download notifications, low battery bug fixes and a new Gallery app.
The novelties
Your smartphone will receive some blows if it's rooted and you install the XWUAMB4. Here is how it will be affected: root access shall be revoked and the system partition will be erased. Even so, the handset's data and internal / external SD cards will escape damage.
Samsung's KIES is not a viable update method. The firmware's KIES logo is turned off, meaning this: you can choose between this guide and OTA for the upgrade. If you select the latter, your smartphone will have to contain stock ROM. If it doesn't, our tutorial will help instead.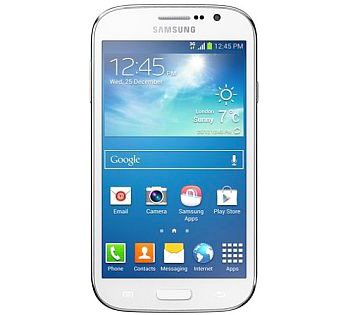 Prerequisites
What you should do in the next couple of minutes is this: prepare the phone for the upgrade. For that, go through these pre-requisites:
your Galaxy Grand Lite GT-I9060 has data which needs to be protected, so create backups for it;
enable, on the phone, USB Debugging;
disable, on your laptop, the programs that protect it against security issues;
fully charge the handset;
turn off the security programs running on the smartphone;
install, on your notebook, USB drivers for the smartphone from this particular place;
use a Windows-running laptop for our guide.
Step by step instructions
Once the device is ready, you have to go through several steps.
Begin with this one: download Odin v3.09 from this page on your laptop. The should also be downloaded on it afterwards. Unzip the packages next, then find Odin v3.09.exe among the extracted files.
Open it on the laptop and make sure your phone is booted into Download Mode. The usual method to do that: press and hold Home, Power and Volume Down, let go when a boot message comes up, then press Volume Up to arrive in the desired mode.
To move on, you have to plug the Galaxy Grand Lite GT-I9060 to the notebook. The phone's USB cord is the means of establishing a connection. As soon as some minutes have passed and Odin comes up with a blue sign, the two devices will have been connected to one another.
The rest of the guide is now very easy to follow. Find the firmware file first; then make sure it's moved to AP / PDA and that you check Auto Reboot and F. Reset Time.
It's possible that Re-partition is the only box that's checked by default; uncheck it yourself if it is. Tap "Start" next. This enables the firmware to enter the installation phase of our tutorial.
10-15 minutes will pass before the XWUANB4 is flashed on your Galaxy Grand Lite GT-I9060. The smartphone will show you this message in green: "Pass".
The message, which will appear in a green box, will be followed by a rebooting of your handset. When this is over, be sure to have the phone unplugged from your notebook.
[sc name="banner-jos"]Then open Settings on your device and tap About Phone. These two actions will launch the new OS so that you can take a look at all of its goodies.
If neither of them appeals to you, here's what to do: restore the old ROM with the NANDroid backup file. Prepare to lose the update procedure in the process.
If there are things you want to tell us, leave them in our comment box below. Which is also ready to receive your questions about the procedure!