Update Galaxy Note 2 Duos GT-N7102 to Android 4.1.2 ZNDMH1 Official Firmware
Galaxy Note 2 Duos GT-N7102 is one of the phones of choice in China. If you wish to turn your device's performance into something out of this world, update your phone to Android 4.1.2 ZNDMH1 official firmware.
This dual-SIM smartphone received an update firmware this year in August, despite it being launched last year in December. Before we detail the steps that will upgrade it to the new firmware, let's find out what goodies are inside the Jelly Bean 4.1.2: triple buffering, touch anticipation, a fixed frame rate of 60 fps and extended sync timing.
All of this is meant to deliver a smooth and fluid user experience together with solid performance from your smartphone. But only if you own the Galaxy Note Duos N7102. If the firmware is installed on another smartphone, you will end up bricking it.
The new ZNDMH1 stock firmware comes with an activated KIES logo. In other words: you won't be able to upgrade your phone via Samsung's KIES software. But you can do that either via our tutorial or an OTA (over the air) method via the Software Update button located under Settings menu. But be sure to have a custom ROM running on your GT-N7102 to get the update.
If the device has already been rooted, you should know that the upgrade will revoke its root access. Which translates into the fact that your phone will have its system partition affected by the procedure. Good news: the upgrade won't manage to delete important files from your phone and its internal/external SD cards won't be damaged.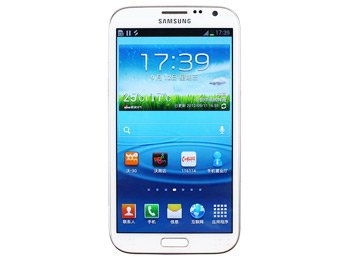 Requirements
In case you are already wondering how to update your handset to the new firmware: you will find that out after we introduce our compulsory requirements. Here you go:
look at the phone's battery status and, if you see the battery icon showing 50% or less, time to charge your device;
use a laptop or a PC which is running Windows;
make backups (a normal one and a full NANDroid one, via this tutorial);
turn on USB Debugging;
install USB drivers on your notebook or laptop (if you want be sure they are compatible with your handset, you must choose this download location);
download and Odin v3.07.exe from this page on your PC or notebook;
disable the security programs running on both the laptop and the smartphone.
Instructions
At this point in time, we give you the steps that will bring the much-needed update firmware on your phone.
Begin the journey with this first task: unzip the Odin and the new Jelly Bean firmware on your comp's or laptop's desktop, then boot the handset in Download Mode. This is how to do it: simultaneously press + hold Volume Down and Home, press Power until the well-known Android logo pops up and then press, again, Power.
Now you should launch the Odin as an Admin. Once you are done with that, we need you to do this: plug the handset to the laptop with the help of the phone's USB cord.
In case there's no yellow ID:COM box or a message that reads "Added!!", the plugging didn't go well, so you should opt for one of these solutions: flash the USB drivers again or use another USB port.
You should now come across a couple of buttons and files. Deal with them like this: click on PDA, opt for a file with CODE in the name, tap Phone, opt for a file with MODEM in its name, tap CSC, select a file with a CSC in the name, tap PIT and choose a file with a .pit extension.
Afterwards we must ask you to activate a bunch of boxes called F. Reset Time, Re-partition and Auto Reboot. Tap "Start" next; you will witness the beginning of the firmware's flashing on your smartphone.
[sc name="banner-jos"]Once the process is done, you should wait for the handset to restart and show you "Pass" in green; disconnect the devices from one another, because the smartphone has just received the Android 4.1.2 ZNDMH1 official firmware and is updated. If you want to check it out as soon as possible: open, on your phone, Settings and then select About Phone.
Should you wish to revoke the update and restore your Galaxy Note 2 N7102 to its former ROM, you can use the NANDroid backup file.
Should there be issues during or after the procedure, drop us a comment in the field below.