How to Update Galaxy Tab 3 10.1 GT-P5200 to Android 4.2.2 UBUAMF6
Time to grab your Galaxy Tab 3 10.1 GT-P5200 and perform an update. What you get in return: Android 4.2.2 and all sorts of goodies which are part of it.
UBUAMF6 has just come out this month. The countries it's available for from now on are: Argentina (Claro), Uruguay, Paraguay, Ecuador, Brazil, Panama, Colombia and Trinidad Tobago. The upgrade we have planned for today must be applied on the Galaxy Tab 3 10.1 P5200. A tablet that isn't this model will be bricked if you install this official firmware on it.
The new features you'll get after you finish the procedure are loads. Here are the first of them: the possibility to long-press the WiFi Bluetooth icons in Quick Settings so that you can easily toggle the on/off state and a new set of download notifications. The second set of novelties means a new set of sounds for wireless charging together with low battery bug fixes. The third set of novelties is made of a USB debug white-list and a new Gallery app with superior speed when loading. You won't have to put up with Bluetooth audio streaming bugs while using your gadget after the update.
If your tablet's running a stock ROM, OTA can be used if you want an alternative to our guide. To make sure the OTA works, do this: use the Software Update button under the phone's Settings menu.
But in case you think our tutorial is more to your liking, we must tell you this: on a rooted Galaxy Tab 3 10.1 GT-P5200, the UBUAMF6 will do some damage. Which includes the deletion of the system partition and a revoked root access. Your device's internal and external SD cards won't be affected; neither will the tablet's crucial data.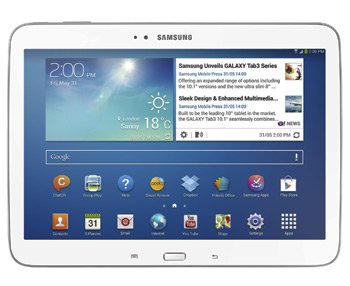 Prerequisites
In case you've considered the cons that come with an update and you still want to make it happen, go ahead and:
there are USB drivers which are suitable for your handset, so find them and download them on the laptop;
enable, on your tablet, USB Debugging;
fully charge the gadget's battery;
use a notebook whose OS is Windows;
create both a normal backup and a full NANDroid backup;
deactivate the security programs flashed on the tablet and the laptop.
Step by step instructions
The following must now feature on your laptop: Odin and the Jelly Bean 4.2.2 UBUAMF6. You must choose the compatible file from this countries list: , , , , , , and . These two archives should have the files inside them extracted; the unzipping should be helped by WinZip, 7Zip or WinRar.
Boot, after you're done with the unzipping, the tablet in Download Mode like this: simultaneously press and hold Volume Down and Power, then press Volume Up after a screen with a warning pops up.
Once the tablet is in Download Mode as instructed, you can create a connection between it and your laptop with the tablet's USB cord and launch Odin.
Then wait for an ID:COM box and "Added!!" to appear on the display before moving on to the next step. If the connection isn't happening, you have to use another USB port; if this isn't successful, flash the USB drivers on the laptop a second time.
After you experience a plugging between the two devices, time to tap BL, opt for a file with BL in the name, tap AP, choose a file with AP in the name, tap CP, choose a file with CP in its name, tap CSC, select a file which has CSC in the name, click on PIT and choose a file sporting an extension with .pit in it.
You should do the following next: activate the boxes Auto Reboot, Re-partition and F. Reset Time. The actual installation of the new firmware will only begin after you tap "Start".
Once the tapping's done and the flashing commences, you need to wait. The installation will reach its end as soon as you see a restarting process from the Galaxy Tab 3 10.1 GT-P5200. Disconnect the gadget from your laptop when "Pass" is displayed in a green-colored background.
[sc name="banner-jos"]What you need to do next is just enjoy the new Jelly Bean 4.2.2 on the tablet. The firmware is very close, all you need to do to have it running on your device is as follows: go to Settings, tap it, then select About Tablet.
If, for one reason or another, the UBUAMF6 isn't that awesome, we recommend the NANDroid backup file. Use it so that the tablet's previous ROM comes back to it once the upgrade process is revoked.
The comment field below this post is where you should direct your questions and comments.