Update Galaxy Tab 3 Lite 3G SM-T111 to Android 4.2.2 XXUBNAC
Galaxy Tab 3 Lite 3G SM-T111 is a fresh new addition to this site. By reading this tutorial, your tablet will gain something new: Android 4.2.2 via XXUBNAC. Stay around for insider's info on how exactly to perform an update.
India is the main country revealed to get the new firmware which came out last month. If you live there but your tablet isn't the Galaxy Tab 3 Lite T111, use some other guide; this one shall brick your device if it's not the aforementioned one.
Once the tablet's updated, the following will be delivered on it: the option of long-pressing the WiFi Bluetooth icons in Quick Settings in order to be able to toggle the on/off state smoothly. But that's not all you'll get. The update means a new set of download notifications, a new Gallery app and a USB debug white-list. We will now continue with the mentioning of these novelties: customization options, low battery bug fixes, enhanced Bluetooth audio streaming and a new set of sounds for wireless charging.
In case of a rooted device, the presence of an update shall delete system partition and revoke root access. But an upgrade won't damage internal and external SD cards or important content. Once you're fully aware of what damages you will encounter, follow the requirements below.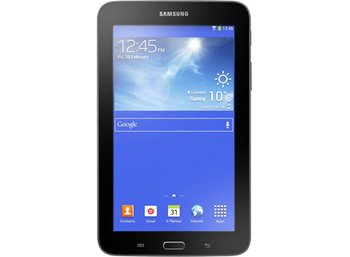 Prerequisites
They tell you this:
Important instructions
Here's the first set of instructions for you: on your notebook, download the Jelly Bean 4.2.2 XXUBNAC first. The second file you must download there is called Odin. Its location is here. After you have all the necessary files downloaded on the notebook, proceed to using WinZip for their unzipping.
Then perform certain actions to successfully enter the tablet in Download Mode. Here they are: after you press and simultaneously hold Volume Down and Power, a screen with a warning will be displayed, so make sure you press Volume Up when it does.
For the following step, launch the Odin as Admin on your notebook. That is done by right-clicking on .exe file and after that tapping an option called "Run as Administrator".
The next set of tasks should begin with you grabbing the tablet's USB cable and using it to establish a connection between the Galaxy Tab 3 Lite 3G SM-T111 and your laptop.
You will know if the plugging worked if you notice a message saying "Added!!" and one ID:COM box in yellow or blue. When no plugging happens, we suggest choosing one of this methods: try a second flashing of the USB drivers or make sure you use another USB port.
If the connection has finally happened, here's how to continue: tap BL, opt for a file with BL in the name, tap AP, choose a file with AP in the name, tap CP, choose a file with CP in its name, tap CSC, select a file which has CSC in the name, click on PIT and choose a file that should have an extension going by the name of.pit.
Make sure you afterwards click on the following set of boxes: Auto Reboot, Re-partition and F. Reset Time. If they're all activated, move on to this step: tap "Start" to activate the installation of the XXUBNAC on the gadget.
You don't have to wait long until the flashing's all over. Once a couple of minutes have passed, do this: see whether or not the tablet restarts. If it does, it should also display "Pass". When this message appears, too, you can perform the last step. For it, you need to unplug the tablet from your notebook.

When the Galaxy Tab 3 Lite 3G SM-T111 is not connected to the laptop, you should tap Settings on it. After you're done, tap About Tablet.
The firmware we told you how to install on the gadget will be located in that place. Click on it and discover its advantages. When none of them is good enough for you, you should use the NANDroid backup to restore the old ROM. In change for this, the tablet's upgrade procedure will be revoked.
Should you have questions, drop them in the comment section below.