How to Install Android 4.3 XXUANB2 on Galaxy Note 3 Lite SM-N7505
Galaxy Note 3 Lite SM-N7505 will welcome Android 4.3 after you're done with this post. In it, we reveal the steps that'll update your favorite device to this OS version.
An upgrade needs a certain type of firmware to be installed on a gadget. In this case we will use XXUANB2 which was launched earlier this month. The new firmware is targeted at France and its KIES logo isn't activated. This leaves you with only two options of updating the smartphone: OTA or our guide. In case of the first method, your Galaxy Note 3 Lite SM-N7505 has to come with stock ROM.
Once you flash this official firmware on a rooted device, the root access will become revoked. After that, its system partition is going to be erased. There's no way the internal and external SD cards will be damaged. Also, the important data on your handset will be kept.
We cannot stress this enough: do use the Galaxy Note 3 Lite SM-N7505 for our tutorial. If any other model is used, it will be damaged.
If you're all curious about the pros of this update, we're here to shed some light on what this procedure will mean. Having the Android 4.3 on-board will translate into customization options, new features and new apps. The new firmware won't bring bugs to the table. The battery of your handset will be able to last more.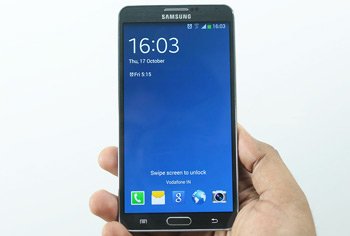 Prerequisites
We must ask you to look at these requirements and do as they tell you to:
your handset should have USB Debugging enabled;
after you create a regular backup, create a full NANDroid one as well;
if the phone's battery is empty, charge it;
use a Windows-running notebook;
here are USB drivers that you must download on your notebook;
disable the security programs running on the Galaxy Note 3 Lite SM-N7505 and the laptop.
Step-by-step instructions
If the pre-requisites are all clear and you want to perform the actual update, you can.
Our first step requires you to on your laptop, then look for Odin here and download it, too. Move on to the next step telling you to extract the packages after you've saved them. For this unzipping we recommend WinZip or 7Zip.
Having just extracted the 2 packages, your next concern is this: enter the phablet in Download Mode. The previous action is done by pressing and holding Volume Down, Home and Power at the exact same time.
Very soon a boot screen is going to arrive on the screen, so press Volume Up when it does. Be sure to have Odin opened as Admin on the laptop. To launch this file, do this: right-click that .exe file and afterwards click on something called "Run as administrator". The next step tells you to plug your handset to your laptop.
When you need to do that, use the phone's USB cable. As soon as the screen contains the following, you will have had a successful connection: "Added!!" and an ID:COM box in yellow.
For those of you who can't establish a connection, try with one of these methods: flash the USB drivers again or go to a different USB port and make use of it.
Next: tap BL, opt for a file with BL in the name, click on AP, opt for a file with AP in the name, tap CP, then opt for a file with CP in its name, tap CSC, choose a file which has CSC in the name, tap PIT and after you're done with that choose a file with .pit in it.
This is what needs to be done next: check Auto Reboot, Re-partition and F. Reset Time. The most important thing to do now is to tap "Start". By performing this, the XXUANB2 will end up on your smartphone.
[sc name="banner-jos"]The flashing needs some minutes to be complete, so have patience. The Galaxy Note 3 Lite SM-N7505 will soon reboot on its own and this message will appear: "Pass". Take the USB cord out so that the devices aren't connected to each other.
After the previous action is done, the XXUANB2 will be easy to launch. Do it by tapping Settings and then About Phone. Find the firmware and give it a go. If it doesn't look good, restore the old ROM with the NANDroid backup file.
As usual, your questions will be answered if you leave them in the box below.