Update Galaxy Trend Plus S7580 to Android 4.2.2 XXUAMK8 Stock Firmware
Galaxy Trend Plus S7580 is a new handset that we want to update to Android 4.2.2, especially since we have the firmware to go with it.
Users in Poland (T-Mobile) and the UK who own this smartphone and wish to update it to the Jelly Bean 4.2.2 should use XXUAMK8 stock firmware. This tool works particularly well with this handset, so don't use another model because it will be bricked. The new ROM appeared this month, but it doesn't have an activated KIES logo. This means the following: you can upgrade your device using our tutorial or OTA via the Software Update button under Settings menu (for this, your smartphone needs to run an official ROM).
The Galaxy Trend Plus GT-S7580 will get a brand new set of features. But before we tell you what they are, you should be warned: should your phone be rooted, the new firmware will revoke the root access and also erase the system partition.
Both the internal/external SD cards and important data will not be damaged, though. So let's see what new features your smartphone will be set up with after the upgrade: the possibility to long-press the WiFi and Bluetooth icons in Quick Settings to be able to toggle the on/off state, a new Gallery app which delivers superior speed when loading, a new set of sounds for wireless charging and low battery bug fixes, no Bluetooth audio streaming bugs in sight, a brand new bunch of download notifications and USB debug white-list.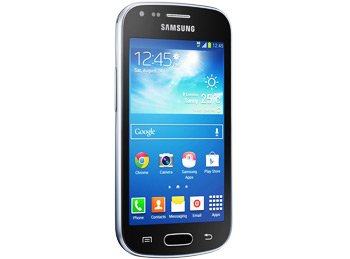 Requirements
Back to our guide, allow us to introduce the requirements below, a must-have for any update tutorial:
Windows should be the operating system your notebook or comp has;
make several backups (a regular one and a full NANDroid backup);
flash USB drivers for the smartphone from this page on your comp or notebook;
your smartphone must have USB Debugging turned on;
if your device's battery is running low, charge it fully;
make sure the security software installed on the laptop and your Samsung S7580 are not turned on.
Step by step instructions
Now that all of the previous pre-requisites have been considered, it's best to keep your laptop open so that the following packages can be downloaded and then saved on it: Odin and the Android 4.2.2 XXUAMK8 (download the Poland T-Mobile version and the UK version ).
After you are done extracting the files inside these two packages, you should go to Odin.
Then make sure you open it as an Admin on your laptop and, when you're done with this, enter the Galaxy Trend Lite S7580 in Download Mode by applying this particular method: press and hold, at the same time, the keys called Home, Volume Down and Power; when you see a screen of warning, you should complete this step by pressing Volume Down.
Prepare for the nest step by plugging, with the handset's USB cable, the S7580 to your notebook.
Only when a yellow ID:COM box and a message that says "Added!!" are going to appear on the screen will you be able to move on since the connection has been established. In case that message and the ID:COM box don't show up, you need to use a different USB port or try and flash the USB drivers again on your laptop.
For the next step, we recommend you to tap PDA, select a file with CODE in the name, tap Phone, opt for a file with MODEM in the name, click on CSC, choose a file which has CSC in the name, tap PIT and choose a file with an extension called .pit.
You should afterwards do the following: activated Re-partition, F. Reset Time and Auto Reboot. Once all of these three boxes are all checked, the flashing of the new firmware should begin.
To commence it, you have to tap "Start". After that, wait until the installation is over, then for your handset to reboot. After the device restarts, it should also display "Pass" so that you can finally disconnect the smartphone from the other device.
[sc name="banner-jos"]As soon as your handset and the laptop aren't plugged to one another, you should go to your phone, tap Settings, click on About Phone and make the most of the XXUAMK8 firmware.
In case the new firmware doesn't equal the old one in terms of performance, novelty and so on, the NANDroid backup file will have to be used to restore the previous ROM back on the phone. However, the update process will be revoked if you do that.
If you come across problems while updating your handset, leave a comment in the section below.