How to Flash Android 4.1.2 JB UBANC1 on Galaxy Fame GT-S6810M
Galaxy Fame GT-S6810M is a perfect pick if you want it to feature Android 4.1.2 Jelly Bean. Especially if you live in Mexico, because new firmware has recently been unveiled for your phone. Watch us as we introduce the way to perform this update!
If you want access to the new version of Jelly Bean, UBANC1 is the means of achieving it. This firmware, which was released only for Mexico in March, will end up on your Samsung S6810M if you follow our tutorial.
The Android 4.1.2 will be featured on your phone only in case it's the Galaxy Fame GT-S6810M. Never update a different model with our guide; the device will only end up damaged.
The novelties
This new OS version comes with many goodies. An automatic adjustment for the size of widgets and all share are only some of them. More to be enjoyed: extended Vsync timing, group cast and triple buffering. Included in the list are touch anticipation, mini apps and also a fixed frame of 60 fps. Coming up next are a new keyboard and pop up play. Completing the batch of new stuff are these features: free style widget, sync and connect email updates and Google Now.
Root access, should your phone have something like this, will end up revoked. Damage will also be done to the device's system partition; this element will be erased for sure. Internal and external SD cards will not be affected. The smartphone's important files, Contacts list and so on will not face damage.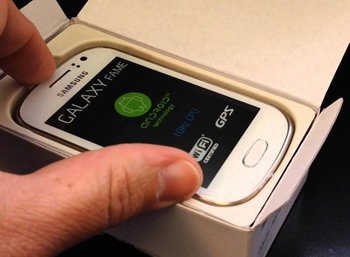 Prerequisites
The thing to do before the update is to make sure these pre-requisites are performed:
the notebook has security software that has to be deactivated;
turn off the security solutions you installed on your laptop (or the ones that come pre-installed);
download USB drivers for the handset on your notebook from this place;
the battery of the smartphone needs to be charged until it's full;
grab your phone and turn on USB Debugging;
your notebook's choice of OS should be only Windows;
make a backup (or more) to save the important data installed on your handset;
you should also make a full NANDroid backup.
Step by step instructions
When your Galaxy Fame GT-S6810M is finally ready to be upgraded, you will have to consider the steps below.
For part one, all you need to do is download a few packages online on your laptop. Their names are Odin v3.09, available on this page, and . If the download has just been performed, time for this action: find an unzipping tool and use it on the packages. Many new files will be displayed soon.
The one you need to open on your laptop is this: Odin v3.09.exe.
Here is what you need to do next: press and hold, at the same time, Home, Power and Volume Down. A boot message should appear on the screen soon afterwards. Press Volume Up when it does. Your smartphone's now in this mode: Download Mode.
So do this next: establish a connection between the handset and the laptop. When the Galaxy Fame GT-S6810M and the notebook are plugged to one another with the phone's USB cable, the Odin will have a blue sign to welcome you with.
Go to the firmware file now. When you're there, add it to the AP / PDA. Check these 2 boxes afterwards: Auto Reboot and F. Reset Time. When you're done, uncheck Re-partition and go for this step: tap "Start".
[sc name="banner-jos"]The UBANC1 is now going to be flashed on the smartphone. This whole process won't take longer than 14 minutes. The tutorial will end as soon as the phone comes up with "Pass" in a green box and reboots.
This is where you should remove the USB cord and start using the new OS. But first, you will have to tap Settings and then About Phone!
Soon after you do as such, the whole bunch of aforementioned goodies will come at you. If you think they aren't as impressive as you once thought, the NANDroid backup file will be the tool to use. This file is able to restore the old ROM by revoking the update process.
We have a comment field under this post. Use it in case you have a question or more for us!