How to Install Android 4.2.2 XXUBML1 on Galaxy Express 2 SM-G3815
New firmware to update your Galaxy Express 2 SM-G3815 to Android 4.2.2 has just been released for Switzerland. Which is why today we will work with XXUBML1, the name of the new tool. Join us if you want to upgrade your device with its help!
The XXUBML1 doesn't have an activated KIES logo. For this reason, there are only two options to choose from f you want to update your smartphone to the latest Android version. You can either opt for OTA via the Software Update button under Settings menu or select our guide. For the first method, your device must have a stock ROM on it. For the second method, it's OK if it doesn't have that.
Refrain from using another phone for this tutorial; if you do, the handset is going to be bricked at once. Here is what you should expect from the new OS: a new Gallery app with superior speed when loading, a new set of sounds for wireless charging and low battery bug fixes.
Among the novelties you will also find a USB debug white-list, the possibility to long-press the WiFi and Bluetooth icons in Quick Settings so that you can easily toggle the on/off state and a whole new set of download notifications. Also, no Bluetooth audio streaming bugs will ruin your day.
Should the Galaxy Express 2 SM-G3815 be a rooted device, the upgrade will revoke root access. That's not the only con: the system partition will be deleted. Advantages: the internal and external SD cards won't be affected. Neither will the phone's crucial data.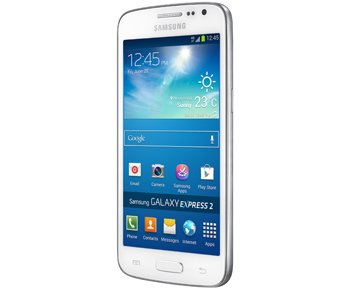 Requirements
Go ahead and follow these pre-requisites now:
find USB Debugging and make sure you turn it on;
USB drivers that are compatible with your phone must be located;
download them, after you find them, on your notebook;
a full NANDroid backup must be created after you make a standard one;
the battery unit must be fully charged should it be empty already;
the laptop must come with Windows on-board;
your notebook's and your handset's security programs must be disabled for our tutorial.
Important instructions
Below you will be shown the steps that'll help upgrade your phone.
Here's how it should all start: download, from this place, the official firmware on the notebook. The Odin is another package you must download on it; you will find it here. Both of these packages should then be unzipped.
You will then be required to enter your Samsung G3815 in Download Mode. Apply these tasks to make it happen: press and hold, at the same time, Home, Volume Down and Power, and move on by pressing Volume Up as soon as a display containing a warning sign will pop up.
Time to have the Odin launched, on your laptop, as Admin. It's now safe to use the phone's USB cord to create a connection between it and the notebook. If all goes as planned, the display will have an ID:COM box appear in yellow and this message: "Added!!".
In case no connection is established, however, we advise you to choose a different USB port. If that doesn't work, you can try flashing the USB drivers again.
In case this works, you should tap BL, select a file with BL in the name, click on AP, opt for a file with AP in the name, tap CP, choose a file with CP in its name, tap CSC, opt for a file which has CSC in the name, tap PIT and select a file with an extension that has .pit in it.
The display will then fill with a couple of boxes. The ones you must check are Re-partition, F. Reset Time and Auto Reboot. If they are all activated like we said, you will be able to continue by tapping "Start".
This is needed from you so that the Jelly Bean 4.2.2 XXUBML1 official firmware can become part of your smartphone. Once the process is done, the handset will automatically reboot.
[sc name="banner-jos"]After "Pass" appears on the touchscreen, you should take out the USB cable which was connecting your 2 devices. Find Settings, tap this option, then click on this one: About Phone. It will take you to the new firmware so that you can see what's so awesome about it.
But if you don't find it as impressive as advertised, the NANDroid backup is here to bring the previous ROM back on the Galaxy Express 2 SM-G3815. Along with that, though, the update shall be revoked.
Underneath this post we have a comment section where you can leave your questions and so on!