Install CM10.2 Jelly Bean 4.3 based Custom ROM on Motorola Photon Q 4G LTE
It's a great day today for your Motorola Photon Q 4G LTE XT897/XT897C! You will embark on a short journey which shall instruct you on how to update your phone to Android 4.3 Jelly Bean CM10.2 custom ROM.
Once the end of this journey is in sight, the many improvements that will land on your handset will leave you, we hope, very satisfied. You should, if you follow our guide correctly, meet with longer battery life, options that will let you customize the phone, new apps to install and so on.
Requirements
Before giving you the first step towards a successful upgrade, we have to divert your attention to these pre-requisites:
root the Motorola Photon Q;
create a NANDroid backup (via this tutorial) after you are done with a regular backup;
charge your phone's battery unit;
don't leave the USB cord of your handset in its box, keep it close to you;
your comp or laptop should have Windows pre-installed on it (but you can use CrossOver Utility on your Mac or Linux-running device);
turn on USB Debugging by taking this route: tap "Settings", choose "Applications", select "Development" and then opt for the option we mentioned;
use your Motorola Photon Q 4G LTE XT897/XT897C instead of any other smartphone;
uninstall all the programs that keep your handset secure from various attacks;
download CM10.2 Jelly Bean 4.3 based custom firmware on your laptop;
go to your notebook and deactivate the software which protects it against different attacks.
There is a risk that will affect your handset if you chose to upgrade it: the warranty it arrives with is going to disappear from it. You will have to do the following to have it back on your Photon Q: downgrade the handset to stock Google Android software. As soon as you do that, you will see that your phone's factory restrictions will reappear, its bootloader is going to be locked again and the device's root access shall become revoked.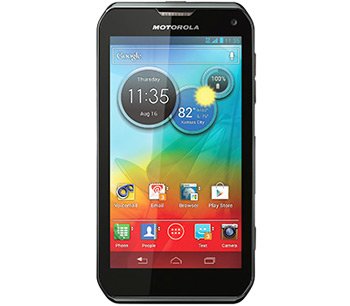 Instructions
If you are aware of this risk but still think that your phone needs an update, then trust us with the upcoming steps.
The first prompt we want you to carry out deals with these actions: after you've downloaded the CyanogenMod 10.2 on the laptop, you won't have to extract what it contains. Be careful and select the appropriate file: (file name: cm-10.2-20130819-NIGHTLY-xt897.zip) and (file name: cm-10.2-20130819-NIGHTLY-xt897c.zip)
Instead, you will have to do this: download Gapps archive from this link on the laptop and leave it unzipped, too.
Proceed to the following couple of instructions: plug the handset to your notebook and then move the two packages from the laptop to the SD card root of the phone, then unplug the devices from one another and switch the handset off.
[sc name="banner-jos"]Continue by entering the smartphone into Recovery Mode and then opt for these three which will wipe the phone's system next: Factory Reset/Wipe Data, Wipe Cache Partition and Wipe Dalvik Cache.
After the wiping has concluded, you should go back to the Recovery Menu of your device.
Be sure to choose Install zip from SD card. Then opt for Choose zip from SD card and then do this: install the CM10.2 tool by tapping "Start".
Flash the Google Apps in the same way you installed the CyanogenMod 10.2 package. After both files are in their respective locations, you can choose +++go back+++. Then restart the Motorola Photon Q by opting for "Reboot" button.