Root Galaxy Ace 2 I8160 on XXMF1 Jelly Bean 4.1.2 Official Firmware
Galaxy Ace 2 I8160 has new software to look forward to. And it comes from Samsung themselves under this name: XXMF1. Rooting your smartphone is something we will tell you how to do in today's tutorial.
The XXMF1 official firmware is based on Google's Android 4.1.2 Jelly Bean version. So what you should expect from the update is a device whose performance will be improved tons. You can check our dedicated tutorial for more details.
Requirements
So, if your handset is already sporting the tool in question, you will be able to root it after we tell you about some other necessary pre-requisites: turn on USB Debugging by opting for Menu, selecting Settings, launching Applications, choosing Development and then clicking on USB Debugging); then flash USB drivers for the phone on your laptop from here, charge the handset's battery until its full, make backups (as many as you want) and use the Galaxy Ace 2 GT-I8160 which is not locked to a carrier or to the factory.
You need to hear this first: once the smartphone is fully rooted, its warranty shall be lost. But not for good: you can see it back with the help of a guide on how to unroot the phone.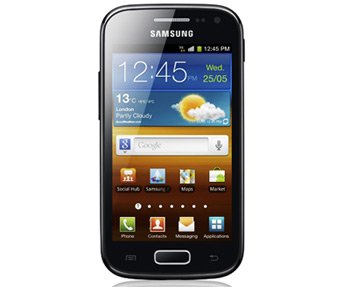 Before we deliver the steps for your phone's rooting, remember this: do not use the guide on a phone that is not the Galaxy Ace 2 S8160, because you will experience it getting damaged at once.
Instructions
Coming back to those steps we mentioned: download, for the first one, on your notebook and plug the smartphone to your device next.
The package contains a root.zip among other files; so your task is to take it from the PC and have it moved to the handset's integrated SD card root. Once the zip has been transferred there, you can disconnect your Galaxy Ace 2 I8160 from your laptop.
Power the smartphone off and then enter it in Recovery Mode by doing as follows: press and hold Volume Up, Home and Power at the same time.
To find your way among several options, you need to use the keys labelled Volume; in order to be able to choose whatever option you want, you have to use Power instead.
Then opt for "Apply update from external storage"; once you finish that task, you need to find the root.zip archive, choose it with Power and then confirm its flashing on the handset.
Arm yourself with some much-needed patience for the next couple of minutes, then go back to the phone's Recovery Menu.
There you will see an option dedicated to the phone's restarting; choose it and the phone will boot into the XXMF1 Android 4.1.2 Jelly Bean official firmware.
[sc name="banner-jos"]But if you are unsure whether or not your I8160 is rooted or you have to repeat the guide, you should simply go to Google Marketplace; look for this app afterwards: Root Checker. Then download and launch it on your Galaxy Ace 2 I8160. The app will then tell you if the root file really is on the phone.
NOTE: After you spot it, it's time to quickly go online and look for various custom ROMs and root-only apps to install on your handset for later use. All of them will make your device put on a great show.
You will find how easy it is to customize your phone, improve its performance and so on. And, if you don't like what you just did, you can just unroot your smartphone with an appropriate guide.