Update Galaxy Ace 3 Duos GT-S7278U to Android 4.1.2 ZMUANA5
Galaxy Ace 3 Duos GT-S7278U came out last year in November. If you live in China and want to update it, ZMUANA5 official firmware is the perfect fit for your smartphone.
This firmware first came out last month, just in time for an upgrade to Android 4.1.2. This is the operating system which is responsible for triple buffering, mini apps and free style widget landing on your device. The rest of the new features can be summed up like this: extended Vsync timing, a fixed frame of 60 fps, Google Now and all share.
Your phone will also receive the following: pop up play, group cast, a whole new keyboard, touch anticipation, sync and connect email updates together with automatic adjustment for the size of widgets.
Don't update another smartphone with our guide. If you do that, your phone is going to be bricked. Also, a rooted Galaxy Ace 3 Duos S7278U will, after the update ends, lose root access. Its system partition is going to be deleted. The internal and external SD cards will not be damaged; the important content will be saved, too.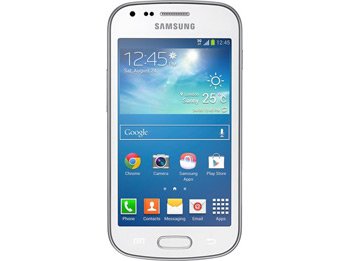 Prerequisites
Below you will see the kind of requirements you must abide by. Here's what they consist of:
Windows is our preferred operating system, so make sure your laptop has it;
to download USB drivers fit for the handset on your notebook we recommend going here;
the battery of your Galaxy Ace 3 Duos GT-S7278U must be fully charged;
turn off the security programs flashed on the handset and the laptop;
create a full NANDroid backup after you've made a standard one;
USB Debugging must be turned on.
Step by step instructions
The tutorial will need to begin with this step: download Odin 3.09 from this location and the Jelly Bean 4.1.2 ZMUANA5 for China . This download should be followed by this action: unzip the packages after you save them.
For the extraction you can use WinRar, 7Zip or WinZip. If the unzipping is done, enter the smartphone in Download Mode by pressing and holding the phone's dedicated keys simultaneously.
Proceed to where the Odin is saved and open it as Admin on the laptop. You should then go to the box which held your phone when it shipped; look for the device's USB cord.
After finding it, use it to help the Galaxy Ace 3 Duos S7278U connect to your laptop. Once a connection is finally established, you will be welcomed by one ID:COM box in yellow and a message which should read "Added!!".
In case the plugging doesn't go as intended, you should make sure the USB drivers are flashed again on the notebook. If that also fails, try another USB port.
When the plugging happens at last, go ahead and do this: tap BL, opt for a file with BL in the name, tap AP next and after that choose a file with AP in the name, tap CP, opt for a file with CP in its name, tap CSC, choose a file which has CSC in the name, tap PIT and opt for that file which sports an extension named .pit.
Choose these boxes for the next step: F. Reset Time, Auto Reboot and Re-partition.
For the next part we recommend this task: tap "Start". When this option has been selected, the new firmware will go into flashing mode. The end of the installation will happen once a couple of minutes have passed. You will know if the flashing's completed when the following happens: the phone reboots and its screen shows up with "Pass" in green.
Once you are sure that the installation is finally over, we advise you to unplug the Galaxy Ace 3 Duos GT-S7278U from your other device. As soon as there's nothing to connect the handset to the laptop, the ZMUANA5 is all ready for inspection.
[sc name="banner-jos"]If you want, you can do that after you actually open the firmware. This should happen as shown here: on your phone be sure to tap Settings and after that look for About Phone. Tap this option, too, then be sure to explore all the goodies that come with the ZMUANA5.
In case they're all amazing, keep the new tool. If, however, none of the novelties impresses you, the previous ROM can easily be brought back on the phone. By way of the NANDroid backup file you had to make not too long ago. When using the file, the upgrade will be revoked.
Questions will be answered if you leave them in the comment field below!