Update Galaxy Mini 2 S6500D to Android 2.3.6 XXMF1 Stock Firmware
Galaxy Mini 2 S6500D is, after the S6500 version, the next smartphone from Samsung to be updated. The OS that you'll get to test once you've installed today's XXMF1 official firmware is the same: Android 2.3.6 Gingerbread.
Your Galaxy Mini 2 GT-S6500D is going to end up, in case it's this model, with a bunch of features which will make it perform better. If it isn't this model, you will brick your device. Make sure to own the version which runs a custom ROM. So, back to those features: Visual Voice Mail updates, better stability when you decide to move between home screen panels, better battery life whenever you want to use Phone Book Access Profile Bluetooth headsets, better data throughput performance in environments with low 4G signal, a couple of Vcast apps, an updated Favorite Contacts widget, CMAS (short for Commercial Mobile Alert Service), the ability to see how much longer you have to wait while performing an OTA update, update to VZ Navigator with the newest 3D map improvements, mobile hotspot bug fixes and better security and better stability for data connectivity after you turn Airplane Mode off.
The countries which this new firmware is aimed at are the Netherlands and New Zealand (Vodafone). The version for the latter came out in July this year and the variant for the first country was launched this past September. Both versions have the KIES logo activated, which means only one thing: you are able to upgrade the phone to the KIES software as well. Another way to use, besides our tutorial, is OTA (over the air by making use of the Software Update option under Settings menu).
A rooted Galaxy Mini 2 S6500D will affect the way this update works. For one, the system partition of your handset will be deleted. Second: the device's root access won't be there anymore. On the good side: the important data and the internal/external SD cards won't be affected.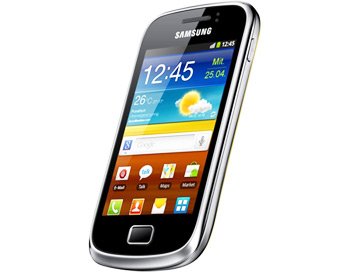 Requirements
One more thing before you begin the procedure. Below you will see some requirements. Follow them:
your phone's USB cable should be kept near you throughout this tutorial;
the laptop (or comp) you own must run Windows;
find USB drivers that are right for your phone and download them from this location on your laptop afterwards;
charge the battery of your handset fully;
create a standard backup and then a full NANDroid one;
be sure to disable, on both the comp or notebook and your handset, the security software that's flashed on them;
enable, on the phone, USB Debugging.
Instructions
The guide should now begin with you performing these actions: download the Gingerbread 2.3.6 XXMF1 stock firmware (the New Zealand version and the Netherlands version ) and Odin tool from this page on your notebook or PC, then continue by unzipping them both and then moving on the next step.
Which needs you to boot the smartphone in Download Mode by pressing and holding Volume Down + Power + Home key, then press the Volume Up button. Now do the following: open, on your laptop or comp, the Odin as an Admin and then make sure the devices are plugged to one another via the USB cable of your phone.
The connection will be established between the S6500D and the laptop if you spot an "Added!!" message and an ID:COM box in yellow. If the plugging didn't work out, you should do one of the following: install the USB drivers once more on your notebook or use a different USB port.
What comes next is this: tap PDA first, then make sure you opt for a file with a CODE in its name, tap Phone, opt for a file with MODEM in the name, click on CSC, opt for that file which has CSC in the name, tap PIT and after that remember to select a file that comes with a .pit extension.
End this step by checking Re-partition, F. Reset Time and Auto Reboot.
You need to do this after you've activated those boxes: begin the flashing of the XXMF1 official firmware by finding "Start" and tapping on it.
[sc name="banner-jos"]When you come across a "Pass" message as soon as your Galaxy Mini 2 GT-S6500D reboots, you can proceed to the unplugging of your handset from your notebook. The stock firmware you've flashed on your smartphone is easy to find: simply tap Settings and then tap About Phone and see what it's all about.
If it isn't something you thought would be great, the NANDroid backup file you created will help restore the old ROM of your smartphone by revoking the upgrade.
Below you will find a comment section. Use it in case you have questions for us!