How to Update Galaxy Note Pro 12.2 WiFi SM-P900 to KitKat 4.4.2 ZCUANC1
Android 4.4.2 is indispensable for your Galaxy Note Pro 12.2 WiFi SM-P900. That is, if you want all kinds of options, improvements, new features and other offerings. If you do, getting this OS is easy. More on this below.
Your tablet will soon be running a new OS version after you install the new ZCUANC1 update file. The latest firmware to come out for your device last month is only available if you're based in China. Also, this firmware can't be used on a different tablet than the Galaxy Note Pro 12.2 P900. Should you be doing that, the gadget will only be bricked.
Other than using the tablet which suits the new firmware, you also have to know that the update influences a rooted device. Things such as system partition and root access will be affected by it. More precisely, the root access will become revoked and the system partition will be erased. On another note, the damage won't touch your tablet's internal / external SD cards or its data.
KIES is not the right method to use on your device. Because the firmware used for this procedure has a deactivated KIES logo, you can use OTA. To do that, your tablet requires stock ROM beforehand. If this is not something your gadget has, our guide can help with the whole procedure.
Android 4.4.2 KitKat is an operating system stoked with a wealth of goodies. Among them you'll find new applications, battery tweaks to help it last more, customization options and new features. Add them together and your Samsung SM-P900 will perform loads better.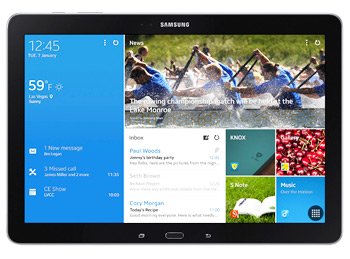 Prerequisites
Before your tablet can receive this update, you have to do something first. Which is the following:
the tablet's security software must always be turned off for an update procedure;
USB Debugging should be activated on the tablet;
you have to make sure the tablet's battery is 100% charged;
your laptop should be running only Windows;
turn off, on your notebook, the programs offering protection from security threats;
USB drivers compatible with the Galaxy Note Pro 12.2 WiFi SM-P900 need to be downloaded on the laptop;
save the tablet's data by creating a normal kind of backup;
there should also be a NANDroid backup on your tablet, so create one.
Step by step instructions
We have the steps for your tablet's upgrade to the new OS.
The first one should be performed this way: download the and Odin v3.09 on the notebook. When these packages are on your device, they must be extracted with 7Zip or WinRar. Odin v3.09.exe has to be open on your laptop and the tablet will need to be booted in Download Mode.
The latter is a step which requires you to press and simultaneously hold Home, Power and Volume Down, then wait for a boot message to be on the screen. Volume Up has to be pressed next. Go to the tablet's box and take its USB cord out.
This cord will be the tool which connects the gadget to your laptop. After a very short while, Odin will go searching for your tablet; as soon as it sees it, a blue sign will be revealed.
The next step has to be done like this: once the the firmware file is added to AP / PDA, F. Reset Time must be checked. Auto Reboot should also be checked, but Re-partition should be unchecked. "Start" is the option that plays an important role now; tap it to begin the flashing of the new firmware.
If the tablet comes up with a message that says "Pass", expect it to automatically reboot afterwards. When the Galaxy Note Pro 12.2 SM-P900 comes back to life, it can be unplugged from the laptop. Do this by removing the USB cable.
[sc name="banner-jos"]The Android 4.4.2 ZCUANC1 can be launched on your tablet now. This operation is done as such: tap Settings and then About Tablet. If the new OS is on-screen, use it for a day or so and see if you like it more than what you were used to.
If the new addition is not that amazing, the NANDroid backup file will be very valuable. That's because you can get the old ROM with it. You can also get the update revoked if that's what you most want.
For comments and questions you can always use the comment section at the bottom of this post.