How to Flash Android 4.2.2 ZMUAND1 on Galaxy Beam 2 SM-G3858
For you to experience Galaxy Beam 2 SM-G3858 in a new way, a better Android version is needed. Here is where we tell you how to get one!
Your smartphone should run Android 4.2.2 Jelly Bean. This OS is the version which brings better Bluetooth audio streaming and a USB debug white-list. Other than these goodies, the upgrade also delivers low battery bug fixes and a new Gallery app. Your handset will be able to use other novelties such as a new set of download notifications. The option of long-pressing the WiFi Bluetooth icons in Quick Settings in order to be able to toggle the on/off state is also offered. Your smartphone is going to sport a new set of sounds for wireless charging, too.
After the Android 4.2.2 gets featured on the phone, root access will be revoked from it. System partition is going to be damaged by being deleted. No other feature will be damaged by the update, not even its data or internal / external SD cards.
The ZMUAND1 is the new official firmware your smartphone gets to play with. Released for China this past April, you must only use it on the Samsung SM-G3858. If another model gets installed with it, the firmware will brick that device. Also, use something else than KIES; the firmware's KIES logo is not activated. OTA is an alternative if the phone you own has stock ROM. In case it doesn't, our tutorial provides the alternative.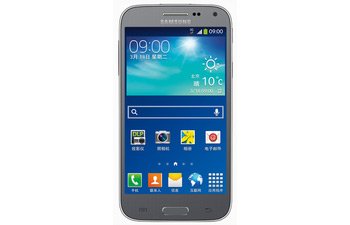 Prerequisites
For this part of our guide, you will see some requirements. Do what they tell you to in order to prepare the handset for an update. Here's what you need to do:
go to your Galaxy Beam 2 G3858 and make sure you deactivate its security programs;
go to the laptop next and be sure to turn off its security programs;
use, for the upgrade, a Windows-running notebook;
download USB drivers on your laptop;
save the handset's important files via backups;
a full NANDroid backup must also be generated;
charge the smartphone's battery;
enable, on the phone, its USB Debugging.
Step by step instructions
You have to use specific steps for the upgrade to the new OS.
The first of them introduces Odin v3.09 and tells you to download it on your laptop. You will then be asked to do the same for another package: the .
Their download should be followed by this action: save the packages on your laptop, then have them extracted with WinZip or 7Zip. After the unzipping comes up with Odin v3.09.exe, you will have to open it on the notebook.
By the time this file is launched on your device, another step will come up. This one instructs you to enter the Galaxy Beam 2 SM-G3858 in Download Mode. This is how to do it: press and hold Home, Power and Volume Down simultaneously and, once a boot message is displayed, press Volume Up.
Next, plug the smartphone to your laptop with its own USB cord and wait for the connection to appear. The latter's going to happen once Odin has a blue sign to pop up.
When the devices are connected like that, you can move on with this step: add the firmware file to AP / PDA. F. Reset Time and Auto Reboot are some of the boxes you'll see appear next; check them both. Re-partition is another box that'll come up; uncheck this one.
Now tap "Start" and the ZMUAND1 will begin the installation phase. To know about the stage of this process, your smartphone will have "Pass" in a green background to show, then it will start again.
When you're fully aware that the procedure is over, you have to do the following: take out the USB cable. Your devices will then be disconnected from one another.
[sc name="banner-jos"]This means that you get a chance at testing the new operating system very soon. Just make sure that these options are tapped one after another: Settings and About Phone.
You will, after doing this, decide whether or not to keep the new addition. If you decide you won't, the phone's previous ROM can be delivered back. To assure its presence on your handset, use the NANDroid backup file. To have the old ROM back on your Galaxy Beam 2 SM-G3858, the latter will have to sacrifice its upgrade procedure.
Before, while or after you perform the update, you may have questions for us. You can leave them below this post.