Update Galaxy Star Duos GT-S5282 to Jelly Bean 4.1.2 XXAMI5 Official Firmware
Galaxy Star Duos S5282 was first announced this past April. As such, an update was in order. Because we didn't want you to be deprived of the latest Android 4.1.2 OS, we took an official firmware called XXAMI5 and included it in this tutorial for you to apply on your smartphone. After your handset will be installed with the new firmware, you will be able to enjoy your device in a whole new light.
The guide here is only available for the Galaxy Star Duos GT-S5282. Use our tutorial only on this model, or you'll end up bricking the firmware that is inside another model you wish to apply the upgrade to.
Also, applying the new official firmware will only work if you live in one of the following regions: Kazakhstan, Ukraine (Kyivstar), Uzbekistan or Russia. Note that the update firmware for today was released this month and it's activated via KIES.
After the firmware is applied on your Galaxy Star Duos, your handset will see its root access revoked. The firmware in itself, though, will not erase files that are on your device. Be aware of this, as well: if the phone is rooted and sports a custom ROM, you will be able to update it; but the phone's system partition shall be wiped. Rest assured that the phone's internal / external SD cards are not going to be damaged.
This guide can be used to flash the latest stock Android 4.1.2 XXAMI5 update if the device is running a custom ROM and you can't locate an update with the help of OTA (over the air) via the Software Update button located under Settings menu or the KIES method. But you can always use Samsung's KIES software and check for the update. This method will work only for smartphone that are already running a stock ROM (or more).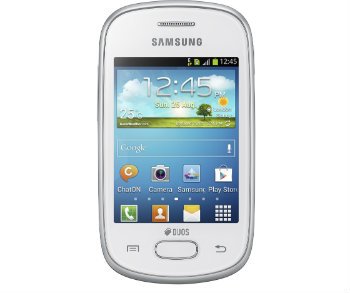 Requirements
Enough with the above for now. You should find out next what requirements there are to consider:
always check the battery status and charge the unit so that you won't end up with an empty battery;
make sure the data on your device is well taken after by creating backups (a full NANDroid one should also be created);
turn USB Debugging on;
turn off the security software that's running on your phone and laptop;
also, remember to use a Windows-running notebook or comp;
get the right USB drivers for your handset from this page on your laptop.
Instructions
Don't ignore the USB cord that ships alongside your smartphone: we will use it later on to establish a connection between your Galaxy Star Duos S5282 and the notebook or computer you like to use.
As for what novelties lie ahead once the update is performed, we should mention the following: new custom ROMs available for your smartphone, stability, longer battery life, new apps, tweaks if you want to have a customized phone, new features and more.
Having made you aware of the goodies that await your handset, let's begin the guide.
The first time around, we advise you to make room for these files on your laptop: the new Jelly Bean 4.1.2 official firmware (download the Kazakhstan version , the Ukraine Kyivstar version , the Uzbekistan version and the Russia version ) and Odin tool, from this page.
Ready? Great, here's what comes next: unzip the content of the files on your notebook's desktop and after that boot your handset in Download Mode. Like shown now: simultaneously press and hold Volume Down, Home and Power.
Then make sure you do as follows when the Download Mode appears: connect the Galaxy Star to the laptop how we told you to above. Once Odin locates the handset, it will show a yellow ID:COM box and an "Added!!" message alongside it; when none of the two is displayed, you should retry by using another USB port or flashing the USB drivers again.
Now perform the following tasks: click on PDA, select a file that comes with a CODE in the name, tap Phone, choose a file with a MODEM in the name, click on CSC, opt for a CSC-named file, tap PIT and opt for a file with a .pit extension.
[sc name="banner-jos"]We will now ask you to do this: check some boxes called Auto Reboot, Re-partition and F. Reset Time, then search a button known as "Start"; when you spot that button, be sure to tap it.
The flashing of the Android 4.1.2 XXAMI5 firmware will then begin. Wait until you see "Pass" and the phone restarts before you can disconnect the handset from the laptop.
Your Galaxy Star Duos GT-S5282 is now updated. We recommend you to leave a comment in the comment field below if you run into trouble along the way.
In case your smartphone fails to leave an impression with the new official firmware, you should do this: you can revoke the update process by using the NANDroid backup file.