Update Galaxy S Advance GT-I9070 to Jelly Bean 4.2.2 Unofficial AOKP Build
Galaxy S Advance I9070 is a great pick for a new smartphone if you can't afford the more expensive Samsung smartphones. As such, after you buy this model we recommend you do the following: update your device to Android 4.2.2 Jelly Bean Unofficial AOKP Build.
The upgrade has all that it takes to bring out the best performance in your handset. The features it sports are many and each of them helps the Galaxy S Advance GT-I9070 become easier to use, easy to customize and so on. Below are only some of the new features the tool delivers:
Dark AOKP;
Carousel lockscreen;
Bluetooth;
USB mass storage;
The features that are not going to work well are these:
Live Wallpaper;
Wi-Fi Tether;
MIC;
Camcorder;
No File Manager;
Demmit STE;
Requirements
The proper way to install an update is by first following the requirements which apply to your phone. So:
flash a custom recovery image on the handset;
make backups via this guide (in case your smartphone already sports TWRP or CWM Recovery, the backup can be performed with this);
flash USB Drivers on your laptop (the kind of drivers which are needed for your particular handset model, available here);
charge the device's battery;
turn on USB Debugging.
Having settled the matter with those pre-requisites, you should take a look at the upcoming steps.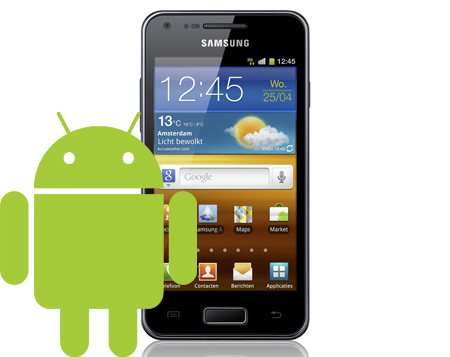 How to flash Android 4.2.2 on Galaxy S Advance
The first of them asks you to download and Google Apps (from here) on the laptop.
The two zip files on your laptop need to be transferred to the phone's SD card root; to enable that move, you need to plug the handset to your PC. After the copy + paste task is over, you will have to do as follows: unplug the Galaxy S Advance I9070 from the notebook.
Then power the phone off. After a bit of waiting, your handset has to enter Recovery Mode. So help it reach that with the help of these instructions: press and hold, at the same time, Volume Up, Home and Power and after you are done, let go of them when the manufacturer's logo is on the display. While you are here, you should create a complete NANDroid backup as shown below:
– opt for Backup&Restore;
– a second screen will appear;
– choose Backup.
After the above are completed, you have to make sure you are back in the smartphone's main recovery menu so that you can perform some tasks which will erase the data on your phone. Those tasks are the following:
– choose Factory reset/Wipe data;
– opt for "Yes" to have a confirmation of the action;
– be in the recovery menu after the above is done;
– opt for Wipe cache partition;
– choose Dalvik Cache;
– wait for that wiping task to end;
– go back to your phone's recovery menu.
The following list of options has to be observed:
– opt for Install zip from SD card;
– select Choose zip from SD card.
You will then have to flash the AOKP ROM zip file by pressing Power; now confirm the task with "Yes" and wait. The Google Apps has to follow next, so to install it make sure you follow the steps you did for the recent flashing of the AOKP ROM zip file; then confirm this operation, too.
You will next have to be in the recovery menu once again; where you will be required to opt for Reboot System Now. Once the handset is rebooted into the update firmware, the guide will be over.
[sc name="banner-jos"]
You are bound to find the Android 4.2.2 JB Unofficial AOKP ROM in "About phone" on your Samsung GT-I9070.
NOTE: If you see a booting animation going on a loop, then you have a problem on your hands. Solve it by doing a Wipe Cache Partition followed by a Wipe Dalvik Cache and reboot the smartphone after that. If you wish to have the phone's old ROM back in place:
boot the device into recovery;
opt for Backup & Restore;
look for a list that has the ROM you are after and choose it;
wait for the ROM to be back on your I9070.