Update Galaxy Tab 10.1 3G GT-P7000 to XWMPI Official Android 4.0.4 ICS
You shouldn't worry that an update might damage your device. It won't. For instance, XWMPI will update your Samsung Galaxy Tab 10.1 3G GT-P7000 to official Android 4.0.4 Ice Cream Sandwich if you use it.
But, in order to get it on your tablet, you have to follow our tutorial step-by-step.
Requirements
For that, we summoned the help of some actions you will hear about in a bit. More precisely, after we tell you something very important: download and Odin tool 3.07 on your laptop, then charge the battery of this gadget. You should make some backups with your important applications.
Now that we got this out off our chest, you should get prepared for the steps that will install the update from earlier on your Samsung Galaxy Tab 10.1 3G GT-P7000.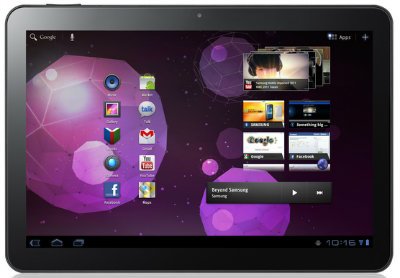 Important instructions
Step number one has the following instructions for you: after the file in our pre-requisites is on your laptop, extract its zip file to the same place. Look around for a file that has .tar in it, then extract the Odin file, too; you need to expect something called Odin tool .exe. Now switch the gadget off before moving on to the second file. The latter goes in the following manner: enter the device into Download Mode.
If you are new at this type of action, do it like we tell you to: press + hold down Volume Down, Home and Power. The display of the Tab 10.1 3G P7000 should come to live and show the manufacturer's logo; when it does that, you have to wait for the tablet to enter the said mode.
Step number three will require this of you: run the Odin tool 3.07.exe as Administrator, then plug the tablet to your laptop. Have patience till you see of the Odin features a message that reads "Added!!" along with a COM port in yellow. This will tell you that the devices are plugged to each other in an appropriate manner. If nothing like this happens, then you need to install the tablet's USB drivers again or just use a different USB port than the one you've been using.
The fourth step will show up; do as follows: opt for some files that we will mention in a short while. But, even if we write them here, you should prepare yourselves for not seeing them. If you do, though, select them accordingly. Here you go:
– click PDA and opt for a file with .tar;
– click Phone and choose a file that has MODEM in its name;
– click CSC; then, when a file with CSC in its name appears, opt for it;
– click PIT and wait for a file called .pit to pop on the screen.
[sc name="banner-jos"]If you don't see them, though, you have to check the following two options: F. Reset Time and Auto Reboot. Check Repartition only if you saw and chose the .pit file from earlier. Now hit Start. After you do that, you will need to wait for the installation to happen for step five. Then the Galaxy Tab 10.1 3G GT-P7000 is going to reboot.
The gadget is supposed to show a Green PASS message somewhere on the left.
When you see it, the seventh step will ask you to disconnect the tablet from the laptop. Your tablet is now updated with the official Android 4.0.4 ICS.