Update Galaxy Tab 3 10.1 LTE P5220 to Jelly Bean 4.2.2 XXUAMH8 Official Firmware
Galaxy Tab 3 10.1 LTE P5220 gets to accommodate Android 4.2.2 Jelly Bean via XXUAMH8 official firmware.
Requirements
Until it does, here's what should concern you first:
turn USB Debugging on your tablet;
use the Galaxy Tab 3 10.2 LTE P5220 which has both its carrier and bootloader not locked;
charge the battery inside the tablet;
flash USB drivers for this model on your notebook.
Don't worry if your notebook or PC has Mac or Linux on it. There is a tool called CrossOver Utility that you can flash on your device should it not run Windows.
Aside from these requirements, you must follow all the steps that will arrive next.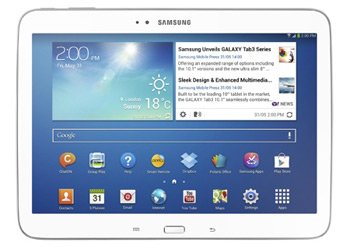 How to flash Android 4.2.2 on your device
Download Odin tool v3.07 from this address and then the (this file is compatible with France based devices) on the laptop and extract them one by one. What this extracting procedure shall produce is Odin tool v3.07.exe along with .tar.md files.
After you switch the tablet off, you should enter the device in Download Mode, an operation that must be done like this: press + simultaneously hold Volume Down and Power, stop when the logo of Android comes on the display, then press Volume Up until the mode is attained seconds later.
For the next part, we want you to launch the Odin tool 3.07.exe as Admin by right-clicking the following: first odin.exe and second Run as administrator (from the gadget's Context Menu).
The tablet must now be connected to the notebook. After this is attained with the USB cord that arrives with the GT-P5220, a yellow COM port number and "Added!!" will appear. This is because the connection was successful; for people whose tablet hasn't connected to their laptops well, we suggest the flashing of the USB drivers again or the use of a different USB port.
Now you will have to tap various keys and then opt for the files which will arrive on the screen: tap "PDA", choose a CODE file, click on "Phone", choose a MODEM file, tap "CSC", opt for a CSC file, tap "PIT" and opt for a file with .pit in the name.
You will next see various boxes. Out of them, the ones you must check are the ones with Repartition, F. Reset Time and Auto Reboot names next to them. The Repartition box should be selected if the .pit file was opted for above.
After these three boxes are checked, you should help with the installation phase by tapping "Start". The Galaxy Tab 3 10.1 LTE P5220 is going to restart after the update firmware is installed. A message containing this word should also appear: "Pass".
[sc name="banner-jos"]Disconnect the tablet from your laptop after the previous signs make an entrance. The next thing you can do after the guide is over is this: go over to the device's "About tablet" from "Settings" and search for the official Android 4.2.2 XXUAMH8 firmware.
NOTE: After you are sure the tablet's been successfully upgraded to that operating system, you should know what to do in case you encounter trouble. Which may consist in this scenario: the tablet is stuck in a never-ending boot animation.
The first thing you need to do: enter the gadget in the Recovery Mode. Then opt for these: "Factory reset/Wipe data" followed closely by "Wipe cache partition". Last task to perform: restart the tablet.