How to Update Galaxy Tab 3 Lite 3G SM-T111M to Android 4.2.2 UBUANG1
Galaxy Tab 3 Lite 3G SM-T111M is on our menu today. We will take you through the steps which provide an update for it. And we'll tell you a thing or two about the firmware needed for that. Get your tablet ready and enjoy it after you're done with our guide!
Your tablet's update is done with this official firmware: Android 4.2.2 Jelly Bean UBUANG1. This is a tool that's available for Argentina, Panama as well as Trinidad and Tobago. The firmware came out last month for this country. And you mustn't make use of it if you own a different gadget model. That's due to the fact that the firmware is only available for your device.
The benefits of this official firmware
The Android 4.2.2 UBUANG1 doesn't feature an activated KIES logo for Argentina. But it does have that for the other countries. An activated KIES logo allows you to use Samsung's KIES software to perform the upgrade; but only if stock ROM comes with your tablet. For Argentinian users who want an alternative to our guide: OTA will do the trick. Again, you'll have to use a gadget with stock ROM to use this option.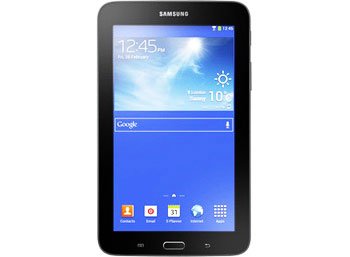 Along with the update come plenty of options, features, tweaks and so on. Here is what your tablet will contain at the end of the day. The gadget will feature a new Gallery app. The usual Bluetooth audio streaming will become better. Your tablet is going to run new features. It will also get access to low battery bug fixes.
You will also get used to a new set of download notifications. An update delivers a USB debug white-list and a new set of sounds for wireless charging. Also delivered is this: the option to long-press the WiFi Bluetooth icons in Quick Settings to be able to toggle the on/off state while using the device.
Trouble on the horizon for your tablet. Problems will only appear if you update a rooted Galaxy Tab 3 Lite 3G SM-T111M. If you do that, you'll strip your gadget of its root access; and its system partition. You will not, however, see its data damage; also, the internal / external SD cards will not encounter damage, either.
Prerequisites
There is something you need to do before you update the tablet:
activate, on the Galaxy Tab 3 Lite SM-T111M, an option called USB Debugging;
disable the security programs installed on your tablet;
the security software used by the laptop needs to be deactivated;
make sure several standard backups are created;
download USB drivers from here page on your laptop;
Windows needs to be the only OS variant inside your laptop;
use a fully charged tablet for this upgrade;
a full NANDroid backup should be created.
Step by step instructions
We have the first step for you now. It says the following: download the , and on your laptop.
Download, next, another package on the same device. This package's name is Odin v3.09. Unzip them with WinRar or WinZip, then open a certain file on the laptop. This is the one: Odin v3.09.exe.
Now enter the tablet in Download Mode. To be efficient, do it like this: press and hold Home, Power and Volume Down together until there's a boot message on the display; press Volume Up to complete this phase.
After that, plug the tablet to your laptop. For this, make use of the gadget's USB cord. When the Odin displays a blue sign, you'll have to continue to our next task.
Here it is: add the firmware file to AP / PDA. Turn on this box when you're done: F. Reset Time. Now turn on this second box: Auto Reboot.
Go to Re-partition and uncheck it. You have to tap Tap "Start" if you want to see the new firmware's flashing process on your Samsung SM-T111M.
[sc name="banner-jos"]If nothing goes wrong, the installation will end in 10-15 minutes. You will then see this message in green: "Pass". If your tablet restarts soon after that, you can finally disconnect it from the laptop.
This will only work if you remove the USB cable. When you do, tap Settings and About Tablet on your Galaxy Tab 3 Lite 3G SM-T111M.
When you've finally launched your tablet, the update goodies will come right at you! Which is why you need to spend some quality time with them now. If you wish for a revoked upgrade to see the old ROM back, use the NANDroid backup file.
Then, in case the procedure brought troubles, leave your questions in the comment field below!