How to Install Android 4.1.2 XXCML1 on Galaxy Note 10.1 GT-N8000
If you prefer a Galaxy Note 10.1 GT-N8000 that you can customize on your own, then an update is a very good idea. There are many firmwares you can choose from, but XXCML1 is the one we recommend.
The XXCML1 was made available for Spain (Vodafone) this month. By flashing it on your tablet, Android 4.1.2 will become available straight away, along with its famed goodies. Which are as follows: a fixed frame of 60 fps, sync and connect email updates and a new keyboard.
Apart from these novelties, your tablet will land triple buffering, free style widget, touch anticipation and also Google Now. Not only that, the device will experience mini apps, group cast, extended Vsync timing, pop up play, automatic adjustment for the size of widgets and all share.
We should tell you that only the Samsung N8000 will be updated to the Android 4.1.2 Jelly Bean with this official firmware. That is why you mustn't use another tablet since you will eventually brick it. In case you feel like using Samsung's KIES, go ahead: the new firmware has an activated KIES logo. However, for this method to be effective, your tablet must contain a stock ROM.
If you're handling a rooted Galaxy Note 10.1, a couple of bad things will happen. One of them: root access will be revoked after the update. Another disadvantage of having the new firmware on-board: system partition will be erased. The important data on your gadget will, however, be saved. The internal and external SD cards of your tablet will not be affected.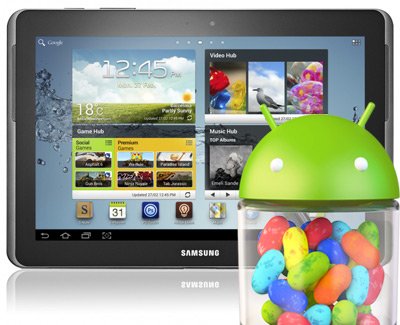 Prerequisites
Be sure to take a look at these requirements before you update your tablet:
Step by step instructions
The pre-requisites are followed by this first step: open your notebook and download the (Vodafone) on it (file name: N8000XXCML1_N8000ATLCML2_ATL.zip). Do the same for another file called Odin.
Save them there and then make sure they're both unzipped before you enter the tablet in Download Mode. The previous action should be done like this: press and hold, simultaneously, Volume Down and Power till you notice a warning screen; when the latter pops up, you need to press this button: Volume Up.
After you're in that mode, open the Odin on the laptop as Admin and use the tablet's USB cable for this purpose: the creation of a connection between the Galaxy Note 10.1 and the notebook.
"Added!!" and an ID:COM box colored in yellow will then appear. This way you will know that a connection has been established as intended. If the plugging is a complete failure, be sure to flash the USB drivers once again on the notebook. Or use a different USB port.
If done with this task, prepare to do as follows next: click on BL, opt for a file with BL in the name, click on AP, choose a file with AP in the name, tap CP, opt for a file with CP in its name, tap CSC, choose a file which has CSC in the name, tap PIT and opt for a file that will have an extension with .pit in it.
At the end of this step we recommend the following actions: once Auto Reboot, Re-partition as well as F. Reset Time are checked, tap "Start" so as to begin the installation of the new firmware.
[sc name="banner-jos"]Once the flashing is all over, the Galaxy Note 10.1 GT-N8000 will start to reboot on its own. If it does that, it should also display, in a green background, a message saying "Pass". When you see it, you need to go to your two devices and disconnect them from one another.
As soon as you're done with this last step, time to go to Settings on the gadget, tap it, then tap About Tablet. The XXCML1 will then be displayed for you to check out.
So give it a try next. If you see anything bothersome about it, the NANDroid backup file will come in handy if you wish to have the old ROM back. After using this special file, the upgrade will be revoked.
If you have questions, leave them below.