How to Root Galaxy Tab 2 7.0 P3110 WiFi on all Jelly Bean 4.2.2 firmware
After you have smoothly upgraded your Galaxy Tab 2 7.0 P3110 WiFi to an Android 4.2.2 Jelly Bean-based firmware, the guide from today serves as a way to help you root it with CF-Auto-Root.
Because the latter has been shown to deliver great results after it has been applied on various gadgets, you will not have mishaps along the way. But, in case you do, do not hesitate to mention them in the section under this tutorial!
The warranty of your tablet will be nowhere to be found after you finish rooting the device. You will only get the warranty restored on your Galaxy Tab 2 7.0 GT-P3110 after you use an app that is called Triangle Away. So make sure you have it downloaded on the tablet after you complete the guide.
Requirements
The above has only been the introduction which will carry us now to requirements:
the tablet must be carrier unlocked for the guide to go well;
your gadget must be the Galaxy Tab 2 7.0 P3110 Wi-Fi version;
use a laptop that has Windows running inside it (but if you don't like this OS and have a different one on your PC, you can use CrossOver Utility in order to be able to run Odin);
find the USB drivers which work only with your tablet, then save them on your comp;
make a backup using these instructions;
turn on USB Debugging;
charge the battery of the tablet (but only in case it's completely drained).
The above list of requirements should be followed by the steps that will get your tablet rooted very soon.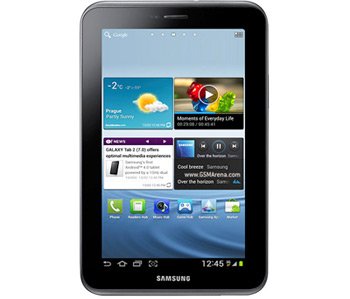 Instructions
For the first round of these steps we give you the following tasks: download Odin tool 3.07 via this link and (file name: CF-Auto-Root-espressowifi-espressowifixx-gtp3110.zip) on your laptop, after which you have to unzip them somewhere accessible (the desktop is always a good idea).
Then open the Odin on the device; make sure you run it as an Admin. After that you will have to switch the gadget off and enter it in Download Mode once it's no longer on; to boot it into this mode, you should press and simultaneously hold Volume Down and Power.
Plug your Galaxy Tab 2 7.0 P3110 to your notebook afterwards and wait a bit to have the connection established; when that is the case, the screen will either give you an "Added!!" message or an ID:COM box with a number colored in blue or yellow.
In case the connection fails to be made between the devices, you need to use a USB port that you haven't before; or flash those USB drivers one more time. Then stay where you are and do as follows: tap "PDA".
Now opt for the unzipped CF-Auto-Root-espressowifi-espressowifixx-gtp3110.tar.md5 file. Then check these two boxes: F. Reset Time and then Auto Reboot; if Re-partition is selected, you should deactivate it.
[sc name="banner-jos"]After you do a confirmation of the rooting, you can tap "Start" and wait for the procedure to begin. "Pass" is going to let you know that everything went very well and that you can disconnect the tablet from your notebook.
You can also reboot your Samsung P3110 powered by Jelly Bean 4.1.2 official firmware. The CF-Auto-Root firmware is on your tablet.
Should you not be sure of this, there is Root Checker to use and check the state of your tablet. The app is in Google Play store, ready to do its job on your device.