Update Asus Transformer Pad Infinity TF700T to CM10.1 RC5 Custom ROM
Try this tutorial out in case you wish to update your Asus Transformer Pad Infinity TF700T to Android 4.2.2 Jelly Bean.
We have just the custom firmware to go with this tablet: CM10.1 RC5. CyanogenMod is famous for providing excellent reliability for your gadget. And there is also better performance to be expected from such a tool, which also means safety, stability and other such crucial attributes.
Requirements
The road to enjoying the update starts with you looking at these requirements: turn on USB debugging, make backups via our instructions, include a backup of the data that's on the tablet's internal memory to an external SD card, flash USB drivers that are appropriate for your device, use the bootloader and carrier unlocked Infinity TF700T and charge its battery.
Should you be all done and ready with the instructions above, then be prepared to follow another bunch of them. This time, they will guide you with the flashing of the CM10.1 RC5 ROM.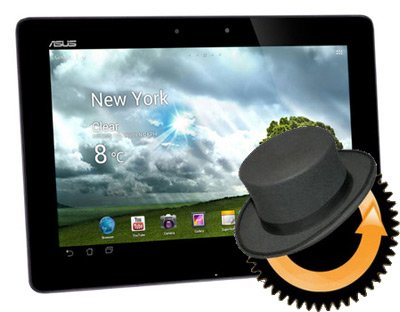 Instructions
For the time being, and then Google Apps from this page on your PC. After your tablet and your comp are plugged to one another, you need to transfer each of the zip files to the gadget's SD card root and then unplug it from your notebook. Turn the former off.
Have it booted into CWM Recovery by pressing and simultaneously holding Volume Down and Power; stop doing that when you spot "Press Volume Up to enter RCK (about 5 seconds)". So press the indicated key to complete the task.
Now's the time to do a NANDroid backup if you haven't (you can use this tutorial). After you finish that operation, you need to start new ones. The first of a total of three tasks needs you to do this: opt for Factory Reset/Wipe Data, choose "Yes", wait, then go back to the Recovery Menu. From there, perform the second action: choose Wipe Cache Partition. Third wiping task: opt for Wipe Dalvik Cache.
The next two moves you have to do next are these: select Install zip from SD card and after that opt for Choose zip from SD card.
In order to flash the cm-10.1.0-RC5-tf700t.zip, find it and choose it via Power.
After you confirm this action, don't forget to also install the Gapps archive by repeating what you were asked to do for the other zip file.
Confirm this, too, then be sure to be in the Recovery Menu for the next task. Which needs to happen like this: choose the tablet's restarting option. After the device boots into the CM10.1 RC5 ROM, you can see what this entails by testing the firmware as soon as you verify its existence in the gadget's "About tablet".
[sc name="banner-jos"]
NOTE: To wipe away a message that says "Status 7 error", you need to first install a compatible kernel; second step: install the CM10.1 RC5 ROM on your tablet. But if the Transformer Pad Infinity TF700T is stuck in a boot loop, you should opt for the following: Wipe Cache Partition and then Wipe Dalvik Cache. After these two tasks are finally performed, you can reboot the gadget.
The old ROM can be accessed only if you follow these couple of easy steps: boot the TF700T into Recovery, choose Backup & Restore and opt for your tool from a list shown on the display. That should bring the previous ROM back on your device.