Install Jelly Bean 4.3 Carbon AOSP custom ROM on Galaxy S3 SGH-I747
Galaxy S3 I747 has sneaked in the hearts of many. If you're unsure whether or not to buy it from AT&T, we strongly advise you to do it.
What recommends this smartphone are its really great performance, the features that will ensure a super user experience, the good battery like and many other additions such as varied features, multiple options and whatnot.
But what will really make the experience even better is if you update this phone to Android 4.3 Jelly Bean with a ROM known as Carbon AOSP.
This is an example of an excellent tool. Having it on your handset is going to mean a great deal for it in terms of battery life, performance and so on. Which will all be seriously heightened and improved.
The Carbon AOSP ROM will also land other features on your device, the kind which will bring new ways of entertainment. Customization will be one of the new possibilities of this update tool. If this sounds very exciting, follow our tutorial to find out how this upgrade can be performed!
Requirements
First we will expose you to the very much-needed requirements that are indispensable for a "How to" guide:
root the handset and then download, on it, TWRP or CWM via this link;
download the (file name: CARBON-JB-NIGHTLY-20130916-0742-d2att.zip) and Gapps on your PC or laptop (using this link);
download USB drivers fit for your handset on your notebook to use later on;
create backups (both regular and a NANDroid one);
turn on USB Debugging on the phone;
charge the device's battery;
follow the update steps detailed in the next couple of paragraphs.
After going through each of these pre-requisites, you should perform the steps that are a great way to update your Galaxy S3 SGH-I747 to the Android 4.3 Jelly Bean version.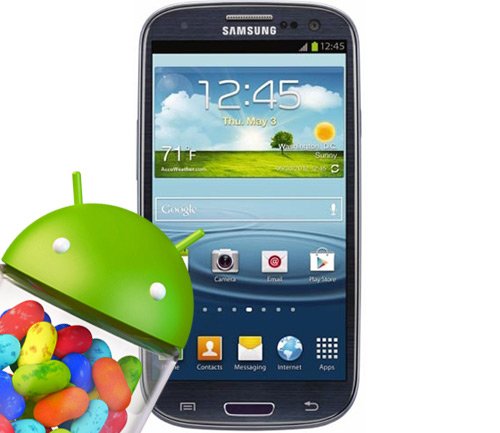 How to flash Android 4.3 on your AT&T Galaxy S3
Go to your laptop where the Gapps and the new Carbon nightly ROM are and extract the two of them. Then plug the smartphone to the laptop. Take the zip files from their place and move them one by one to the SD card root of your handset.
Then perform this task: power the smartphone off. When it's not connected to your notebook anymore, you need to boot the handset into Recovery Mode by taking your phone and pressing Volume Up and Home while at the same time powering the device on.
Prepare for the next task which asks this from you: do a full data wipe for your Galaxy S3 I747 and follow this operation up with a new one.
[sc name="banner-jos"]The latter sounds like this: choose two options which are named Install zip from SD card and Choose zip from SD card.
After you select each of them, you can go to the new ROM zip file to flash it; but first, opt for it via Power. Then confirm its installation and repeat these steps to flash the Gapps package, too.
When the packages are both flashed, you should select Go Back and then opt for Restart the device from the phone's Recovery Menu to reboot the handset. Have patience now.
Then, after the procedure is successfully over, the Jelly Bean 4.3 Carbon AOSP nightly ROM will have been added on your Galaxy S3 SGH-I747. On the latter, make sure you access "Settings" and afterwards select "About Phone" where the upgrade firmware is located.